Liv Morgan seems to have been switching towards a dark character as she was grinning while Ronda Rousey was choking her at the climax of their bout at the Extreme Rules Premium Live Event. Liv Morgan was all smiles after the fight, and when Megan Morant proceeded to take Morgan's interview backstage, Liv Morgan looked to be acting strangely as she sat in the dark and didn't say anything.
There has been speculation that Liv Morgan might be a part of Bray Wyatt's stable and that she would be assuming the role of Abby the witch in the stable. The former SmackDown Women's Champion's rumored boyfriend in real life, Bo Dallas, is also speculated to return to the WWE.
It has been said that Dallas will also be a part of his real-life brother, Bray Wyatt's stable. The match at Extreme Rules was lacklustre and the feud between Rousey and Morgan was dull too, so fans wouldn't want to see Liv Morgan get involved with Ronda Rousey again. It would be interesting to see Morgan's new character and a possible heel turn in the coming days.
A few days before the Extreme Rules Live Event, Liv Morgan was spotted with AEW star MJF, and the photo has gone viral on social media. During a recent interview with Metro, Liv Morgan revealed the reason she was with MJF. She stated that she was at her buddy Skylar's birthday party, which MJF also attended, implying that they were common friends with Skylar. Morgan stated that she and MJF have a lot in common and that they had terrific banter.
"Aha! So, I went to my friend Skylar's birthday party and he was just there! I had never met him before that. We had great, great, great, great banter. We have a lot in common actually!"
RELATED: Former WWE Superstar calls Liv Morgan "the prettiest human" ever
Ronda Rousey revealed the rejected ending by WWE for her match with Liv Morgan at Extreme Rules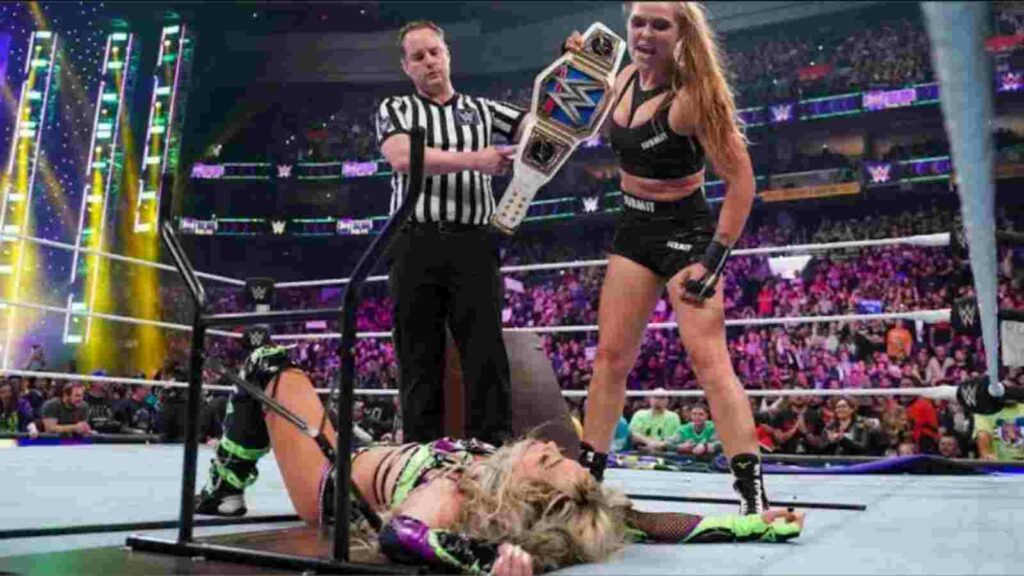 Ronda Rousey said during a live stream on her YouTube channel that she had pitched the end of the Extreme Rules battle to be on the thumbtacks. She said that Liv Morgan would have powerbombed her on the thumbtacks, then she would have gone for the armbar on the thumbtacks, and Morgan would be biting her hand attempting not to tap, before passing out face down on the thumbtacks with her hand protecting her face.
WWE, according to Ronda Rousey, rejected the notion since thumbtacks might intentionally harm and cut through skin and other things.
ALSO READ: Dustin Rhodes opines on Shawn Michaels's legacy and names his top 4 Wrestlers