Well, WWE celebrated the 30 years of Monday Night Raw last night, in Philadelphia. And of course, someone like Paul Heyman didn't missed out on an opportunity to tease the City of Brotherly Love. During the Tribal Court segment to kick things off, Heyman made sure to amass a chorus of boos from Philadelphians.
The Special Counsel to Roman Reigns mentioned that everyone's going to have a hard time when Sami Zayn gets terminated from The Bloodline. And that'll exactly feel like Philadelphia Eagles' fans when they get conquered by Brock Purdy and his San Francisco 49ers. Obviously, Heyman's genius skull promoted him to drop such a line. On a side note, Eagles will square off against the 49ers, coming January 28.
Time will narrate if Mr. Heyman's prophecy turns out true or not. Anyways, this line received massive reaction as expected and over 16,000 in attendance at the Wells Fargo Center booed him. It's not a rocket science scenario. What else those watching around were expecting Eagles' territory to respond like? You can check that cheeky moment right here.
Paul Heyman's obsession with Brock Purdy is not new. Back in December last year, Roman Reigns' special counsel asked Purdy to change his first name, as he's no match with Heyman's former client, Brock Lesnar. However, the latest turn of events and 49ers Quarterback's impressive gameplay might've changed Heyman's impression about Mr. Relevant.
Discover more: REPORT: WWE has made an enormous offer to "Stone Cold" Steve Austin for an unparalleled match at WrestleMania 39
Paul Heyman seemingly hates Sami Zayn a lot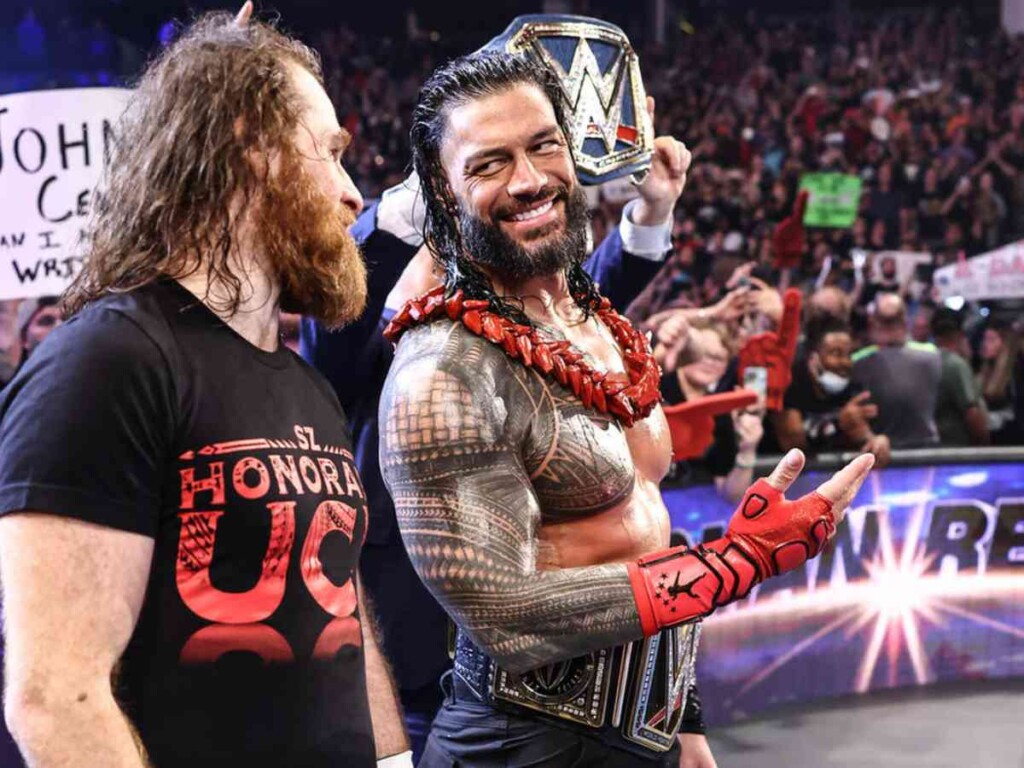 Coming back to the Tribal Court of Sami Zayn, that segment was pure cinema from top to bottom. In a complete rollercoaster of emotions, The Bloodline might've just produced the segment of the year, that too in January only. Starting off with Paul Heyman lashing out on The Honorary Uce, the former accused Zayn for his conspiracies against The Tribal Chief and company. In 4 one-sided clips, Heyman presented Sami as an ultimate guilty.
Upon receiving such input from the Special Counsel, Roman Reigns became irate and gave the marching orders to Solo Sikoa. However, just when The Enforcer was about to destroy the Syrian wrestler, Jey Uso dropped in and stopped Sikoa from doing so. Jey then implied how Sami Zayn worked his butt off for them even when main-event Jey Uso was pushing for The Honoray Uce out of the family.
As a result, Jey came up with his own clips which clearly showcased the multiple sacrifices of Zayn for The Bloodline, where he would gladly take the bullet for mighty Samoans. After going through them, Reigns declared Zayn non-guilty for the time being. However, before leaving, The Undisputed WWE Universal Championship instructed Sami Zayn to pass a test. For that, he isn't supposed to show up before the Royal Rumble, this Saturday.
In case you missed it!
"Definitely," Gunther expressed his desire to face Brock Lesnar in a first-time-ever match
John Cena gets unveiled as the poster boy for WWE's 2k23 edition in a flamboyant teaser drop