The lucha libre style of wrestling has been followed for many decades. The tradition of luchadors' masks holds great significance, making it a strict part of their matchup. Moreover, it stands as an embodiment of their culture. WWE Hall of Famer Rey Mysterio is an avid part of the Lucha Libre heritage of wrestling. Mysterio's iconic mask is a trademark of his career.
Rey Mysterio, during his time in WCW, wrestled for a brief amount of time without his mask. He started off in WCW, following the lineage, by competing with his mask on. But he eventually lost the right to wear it when he lost a "Hair vs Mask" match. It was a tag team match where Mysterio and Konnan battled Kevin Nash and Scott Hall in 1998.
This period of unmasked Rey made him the "Giant Killer" through his redemption arc for his loss of mask. The Ultimate Underdog received massive support during his feud with major superstars in WCW. He won multiple titles during that period and became the star of WCW. However, the leader of 619 ended up going into WWE too because of his stardom.
A video posted on Twitter showcases him being interviewed before his match against Jeff Jarrett. The November 11th, 2000, episode of WCW Monday Nitro had this backstage segment where Rey was a total menace. The interview actually turns into a promo, with Mysterio delivering a message to Jeff about his loss with unfiltered words. You can watch the video here.
Related: Zelina Vega opines on her pairing with Santos Escobar, forming The LWO with Rey Mysterio
Bret Hart praises Rey Mysterio stating him as the greatest of all time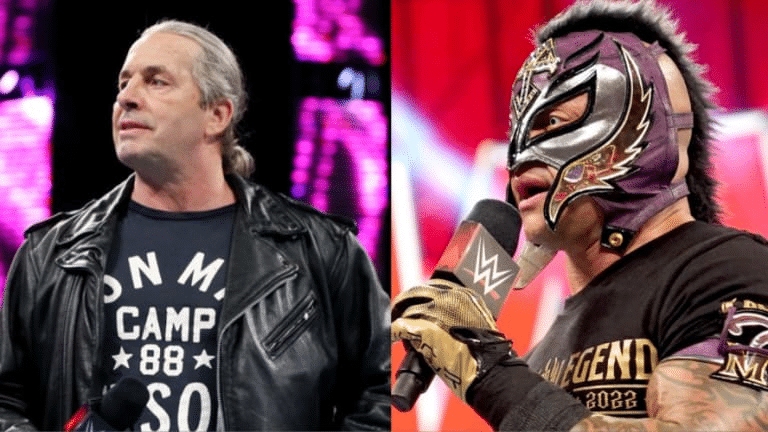 WWE Hall of Famer Bret Hart is considered one of the best to have stepped foot inside the squared circle. Hart himself believes that Rey Mysterio is actually better than him and considers him the greatest wrestler of all time. The WWE Hall of Famer has the utmost respect for the legendary luchador and wishes to have faced him in his career.
Speaking on the Johnny I Pro Show, The Hit Man states Mysterio's contributions to the industry are ground-breaking. Bret Hart spoke about his inclusions ranging from ECW, WCW, AAA, and WWE since 1989 to the present day. Hart believed that his several contributions were recognized upon his induction into the WWE Hall of Fame earlier this year.
The WWE legend said, "He's one of my favorites, and always a class act." Hart worked in WCW between 1997 and 2000 but never encountered The Master of 619. He regrets not facing Mysterio in his legendary career in WCW as well as WWE.
In case you missed it: