The recently crowned World Heavyweight Champion asks a question to the WWE Universe. Seth Rollins won the Championship at Night of Champions after defeating AJ Styles. The Visionary kept his winning momentum going this week on Raw. He teamed up with The Phenomenal One to take on Finn Balor and Damian Priest from Judgment Day.
WWE recently re-instated the World Heavyweight Championship after it was unified with the WWE Championship in late 2013. There is still a dilemma about whether the championship contains its previous history or not. The last champion with the previous record was Randy Orton. His feud with John Cena ended when The Viper won the title unification match at TLC 2013.
Recently, on Twitter, the 37-year-old champion asked his fans a question. Rollins wondered when the last time The World Heavyweight Championship was defended on Raw. He was about to board a flight to White Plains, the location for the next WWE SuperShow.
The Visionary believes that title defenses have been extremely rare since Roman Reigns won the Championship. Therefore, this was one of the reasons behind Rollins' question. The championships are rarely defended on live events, let alone on weekly television shows. The Visionary believes that it is not a good business decision to match big title defenses on free television.
Fans were quick to respond to Rollins' question. Some recalled that Big E defended the title against Austin Theory on an episode of Raw, in late 2021. But due to the technicality of the title, other fans believe that the last title defense occurred between John Cena and Damien Sandow in 2013.
Related: Seth Rollins brutally disses Roman Reigns for his part-time schedule as a champion
Seth Rollins faces Damian Priest as his next opponent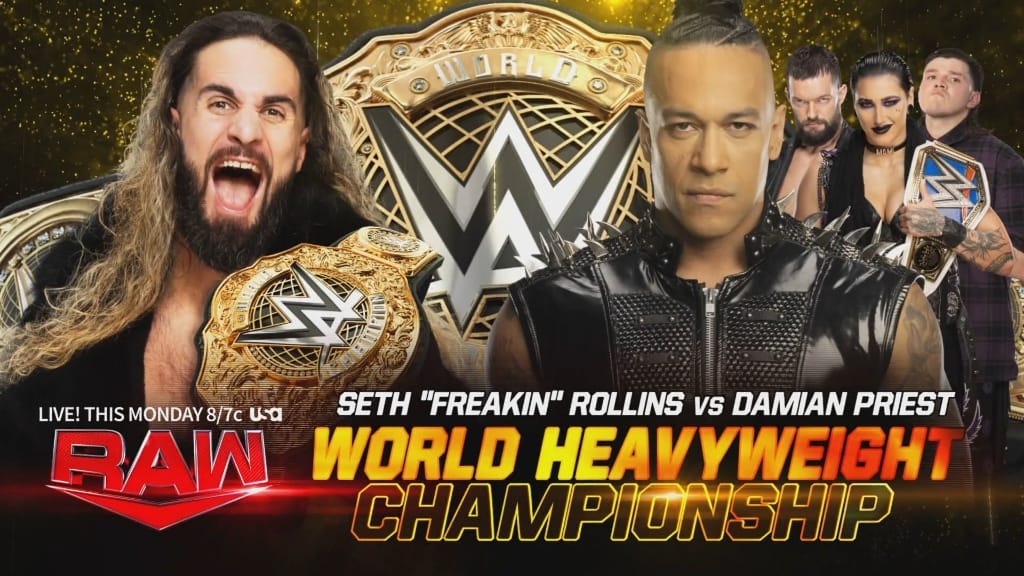 The introduction of the World Heavyweight Championship was done so that a championship could be defended on more occasions than just live events. Seth Rollins also promised his fans after winning the title that he would be the people's champion. Therefore, WWE and Rollins are wasting no time in announcing the first title defense.
Recently, The Visionary announced an open challenge for the title. Damian Priest from Judgment Day accepted the challenge and will face Rollins on the next episode of Raw. The episode will be live from Hartford, Connecticut. This will be the first time a men's World Championship is being defended on Raw in years. That happened last time, in 2021.
After his performance at Backlash against Bad Bunny, Priest is now considered a main-event talent. Hence, he can be considered a legit threat to Rollins' championship. The match was made official by Michael Cole on Friday Night SmackDown. It will be interesting to watch the bout between the two top stars.
In case you missed it: