That time of the year is here. We are in for WWE Money in the Bank, to be held this Saturday in Las Vegas. With some of the incredible matches lined up for the tournament, like The Usos vs. The Street Profits, stakes are high for the champions. They will have to prove their command. One such pair (guess who) will be up in the ring that night defending their WWE Undisputed Tag Team Championship title. Yes, right. The Usos.
The Usos are scheduled to take on The Street Profits. Angelo Dawkins and Montez Ford will challenge Jey Uso and Jimmy Uso. Who do you guys think will win this contest? Well, from the creative front, there can be quite a number of storyline alternatives that can give us a clearer picture of what the organization's creative team wants in the first place.
Would they prefer The Usos defend their title and take their reign to the next level? Or would they want a change? The answer is not quite clear.  But on the competitive front, we can decode each of the teams' strengths and weaknesses to predict the winner of their MITB encounter. That's what we are going to do?
Also Read: "The Miz is dead to me and I signed this contract so that I can beat his a** at SummerSlam" – Logan Paul issues warning to former teammate after signing WWE contract
The Usos vs The Street Profits: Who will win?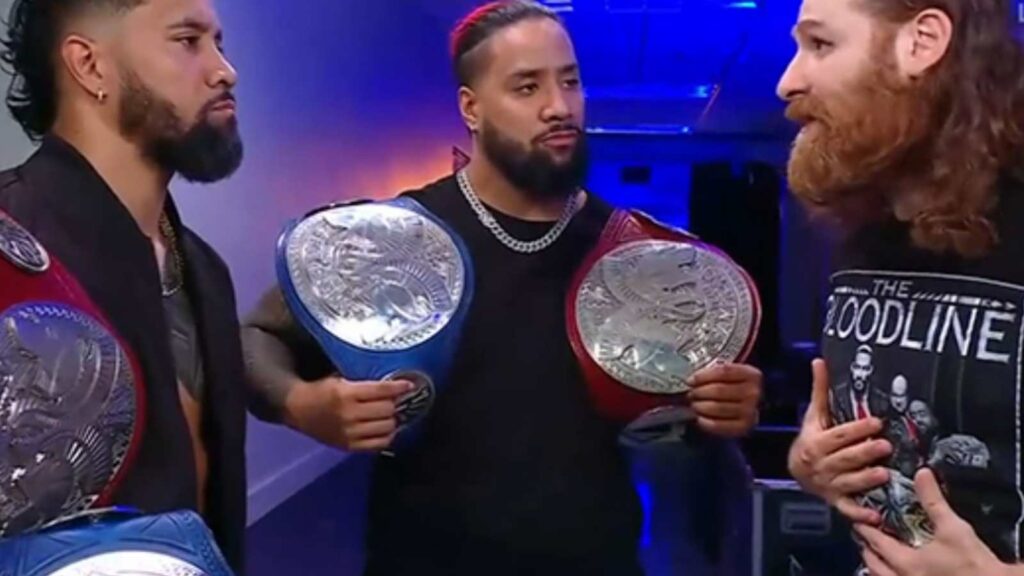 Ever since The Usos won the championship, they have been in incredible form. They continued defeating the best tag teams SmackDown had to offer. The Usos claim that no team in the current WWE roster can defeat them. But we think The Street Profits might disprove them on Saturday night.
It would be interesting to note that The Usos were heavily tested during their close battle against Riddle and Shinsuke Nakamura. More interestingly, The Usos might have had to give up their title that day had Sami Zayn not intervened.
Also Read: "Hogan is not a great human being" – When Seth Rollins accused Hulk to be a demeaning personality
The Usos vs The Street Profits: Odds
Here are the betting odds for the Money in the Bank encounter between The Usos and The Street Profits:
Odds of The Usos retaining their title: -300
Odds of The Street Profits winning as underdogs: +250
The Street Profits may see this as a golden chance to unseat The Usos from their throne. Even though Jey and Jimmy are among the top tag teams in the WWE Universe, their reign hasn't really faced that kind of superior competition so far. Again, from the storyline perspective, their failure to retain their championship belts might indicate a weakness in The Bloodline's structure. As a result, the promotion can create new plotlines with new champions emerging into the scene. Still WWE might go with their usual ways and make The Usos retain their titles.
WINNER PREDICTION – THE USOS
Also Read: "Stephanie McMahon is the right person for the job" – The Undertaker is confident about Vince's daughter's success as a CEO
Also Read: "I just won't be responding for the next 2 or 3 weeks" – WWE universe worried as Hall of Famer Billy Graham to undergo yet another surgery