WBC heavyweight champion Tyson Fury is arguably the best heavyweight boxer of the current generation. He has notable victories against ruthless competitors like Dillian Whyte, Deontay Wilder, and Vladimir Klitschko. However, 'The Gypsy King' could fight fellow British boxer Anthony Joshua if the rumors are true. Both fighters hail from the United Kingdom, and the fight between the two can become the biggest in British boxing history.
Recently, Tyson Fury uploaded an Instagram post hinting at a heavyweight clash against former champion Anthony Joshua. The fighter mentioned the contractual issues and the back-and-forth they had in the past. The 34-year-old puts a pin on the rumors and requests 'AJ' regarding the fight.
Fury uploaded a collage of himself and Anthony Joshua onto his Instagram page. He captioned the post, "A few days ago I sent a draft contract to Anthony Joshua for a fight in September at Wembley Stadium. It's a fight that everyone wants to see including myself. Come of AJ let's give the world 🌎 what they want to see. This time I'm not gonna make a million vids & keep putting pressure on. the ball is now on your side.. 👍😘"
The Lineal heavyweight champion seems ready for a brutal battle against Anthony Joshua. Despite Fury's complex contract negotiations with Oleksandr Usyk, boxing fans are excited to witness 'The Gypsy King' going head-to-head against the Watford native.
Related: "How can you not respect the HW champ?" Andrew Tate lauds Tyson Fury's triumph over depression to become the 'champ again'
Tyson Fury trashed Anthony Joshua and Oleksandr Usyk following their second bout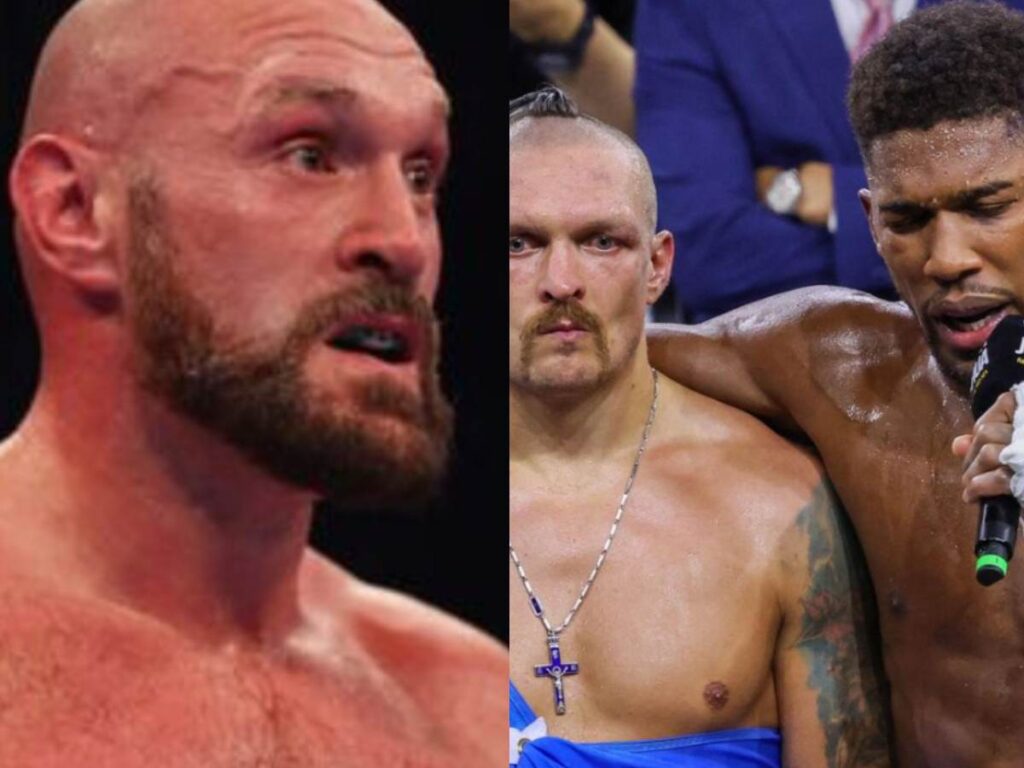 Anthony Joshua vs. Oleksandr Usyk 2 was a huge heavyweight showdown. Having lost his first bout against Usyk, Joshua aimed to make adjustments and dominate Usyk. However, Joshua could not overcome the Ukrainian fighter's skill set. Despite his loss, fans respected AJ for his better performance compared to the first bout. Fans also praised Usyk's skillful tactics, allowing him to outpoint the British fighter. However, one man vocally disagreed with the fans.
The WBC heavyweight champion Tyson Fury did not appreciate the fight. In an interview with 'BT Sport,' Fury was asked about the showdown. He answered, "I don't rate AJ, never have. He's a blown-up bodybuilder who can't box. And Usyk, I don't rate him either, he's a pumped-up middleweight. He's had a few fights at heavyweight and all of a sudden, people think he's some legendary heavyweight champion."
Fans praised Usyk's technical victory over Anthony Joshua. However, Tyson Fury continues to trash-talk him despite defeating Joshua twice. Although the Fury vs Usyk fight came close to an agreement, it immediately fell through due to contractual issues. The public blamed 'The Gypsy King' for his contractual demands for the boxing match. Hopefully fans could see a blockbuster clash featuring Fury and Joshua if the duo can agree on a contract.
In case you missed it: