Shakira was spotted at dinner in Spain with Lewis Hamilton following her messy split from her former husband Gerard Pique. Both were seen together in the popular restaurant, for lunch. Hamilton finished second in the Spanish GP in Barcelona earlier this week.
A video emerged where Shakira and Hamilton were seen together sitting at the restaurant. Shakira appeared to be seen in the clip walking across the restaurant as she appears to approach Hamilton's table. The British F1 driver had earlier been snapped by photographers entering the restaurant, wearing a distinctive multi-colored shirt and jewelry.
The short video appeared to show the Waka Waka singer being shepherded over toward Lewis. Another man who appeared to be seated nearby – possibly also at Hamilton's table – turned around as she approaches.
Lewis meanwhile appeared to be seen looking up towards her and smiling as they appear to greet each other. The 92-time race winner appeared pleased to see Shakira. And she then joined the group for dinner. And while the clip sent tongues wagging and rumors swirling, it is understood the racer and the singer are just friends.
It came after the singer, 46, was spotted mingling with Tom Cruise. Shakira announced her separation from footballer Gerard Pique last May after spending 11 years together.
In case you missed: Another Manchester United youngster gets accused of domestic assault, complaint filed in Brazil
Shakira's new look at the Spanish GP turned around quite a few heads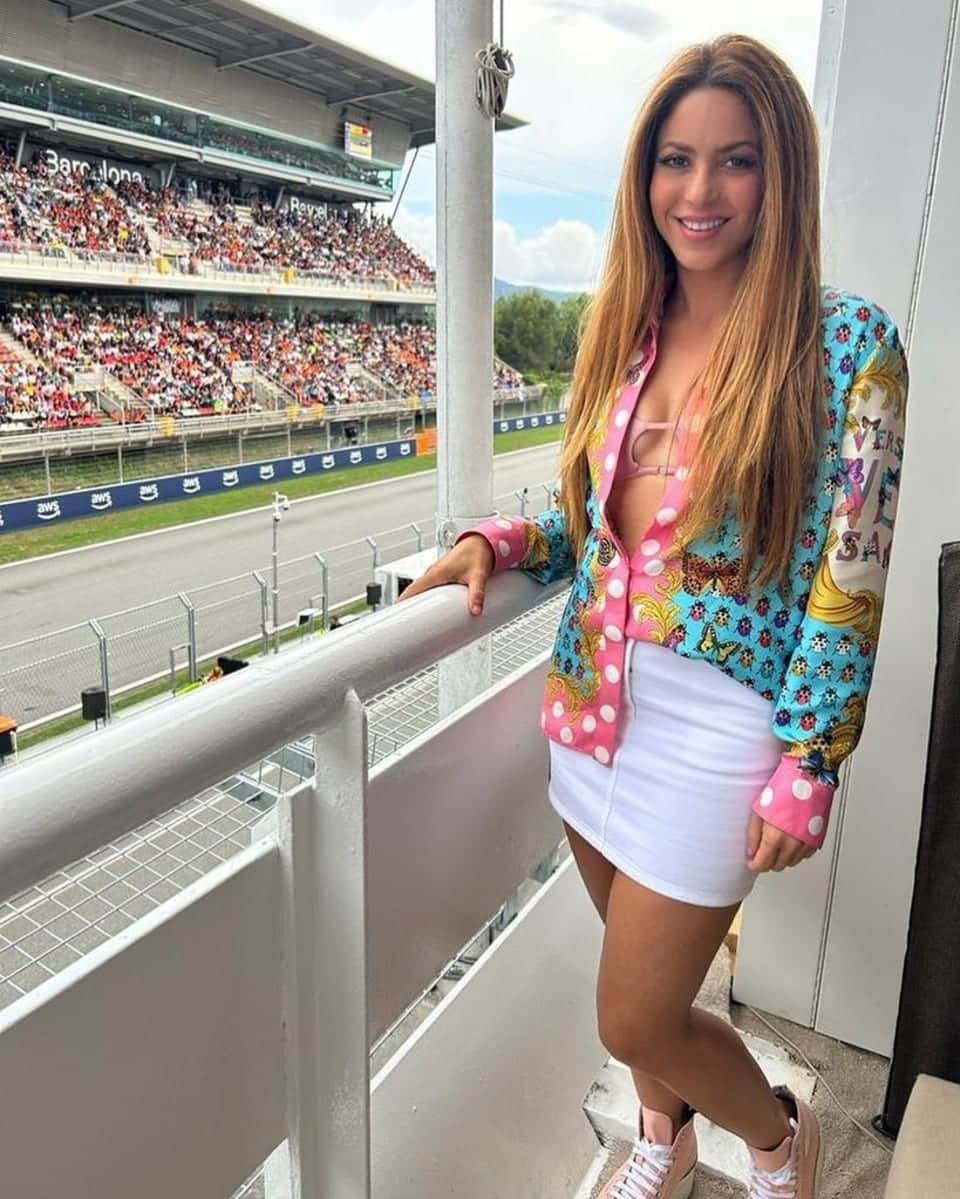 Colombian Pop star Shakira made quite the splash at the F1 Grand Prix in Barcelona. Shakira was the epitome of style while watching Lewis Hamilton compete in the high-octane race.
Shakira was wearing a bra top and a multi-hued, paisley-patterned blouse. Her look did turn heads at Circuit de Barcelona-Catalunya. Her top, an elegant palette of blues, pinks, and whites enhanced by golden patterns, paired perfectly with her makeup look, featuring a luscious pink lip.
In the race, Shakira was accompanied by a group of friends, shared in the exhilaration as the cars whizzed past. The Colombian superstar witnessed Max Verstappen's commanding victory, while Lewis Hamilton and George Russell, the Mercedes pair, claimed the second and third positions respectively.
Lewis made a statement before the race in his black jacket, matching trousers, and a striking red shirt beneath. His choice of dark sunglasses and a gold grill perfectly accented his ensemble and matched his array of earrings.
Related news :