Do you find a few athletes terrorizing? Paige Spiranac surely does. Well, it's not just Halloween when some of them are into their scary game. After a hot bomb Halloween look, she is back with a tweet listing the top 5 athletes whom she finds the spookiest. Get in line to hear some out-of-the-ordinary names.
Paige Spiranac is a rather enthusiastic athlete, having made a fortune with her influential presence on the internet and her love for not just golf, but for most other sports. When she says something, we listen seriously and get impressed mostly because of her sultry looks and on-point discussions.
Paige listed the top 5 of the scariest, spookiest, and most terrorizing sports persons of all time in a video. The list is mainly a compilation of two fighters, a hockey player, a MLB pitcher, and a star pass rusher. Start guessing before you even read forward to find out about those athletes who run a chill down Paige's spine with their menacing appearances.
Also read:- "It was like the world was ending"- Paige Spiranac experienced melancholy when the Karens thought she was showing TOO MUCH CLE**AGE
Mike Tyson to James Harrison all scare Paige Spiranac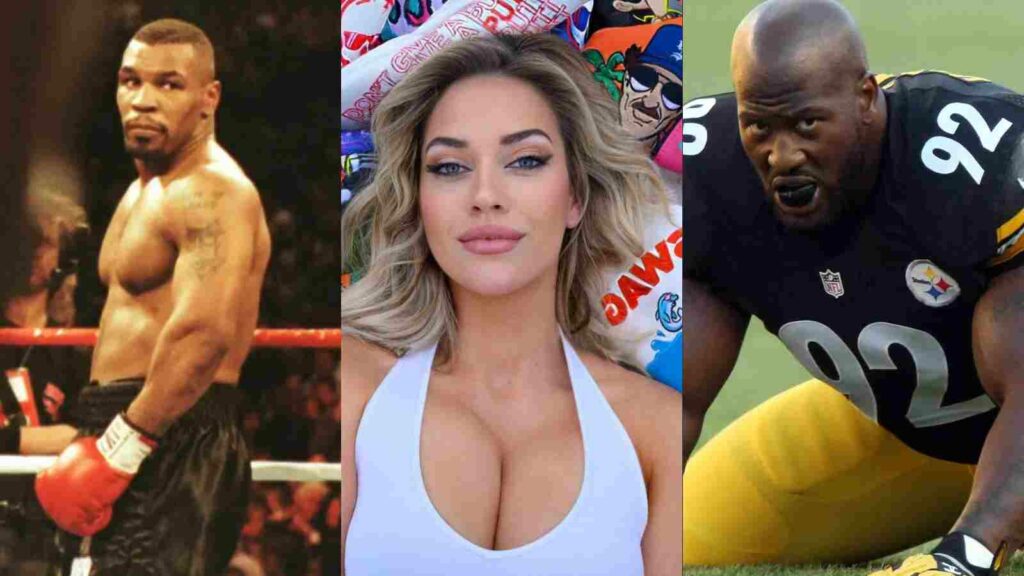 The top of the list is of course the famous fighter Mike Tyson along with Kimbo Slice, one a professional boxer and another a mixed martial artist. Tyson is even called the 'Bad-est Man on Earth' and to be scared by him isn't much of a surprise. Anyone who's also seen Slice in his action has to agree with Paige Spiranac.
The other two in line are Terry O'Reilly and Randy Johnson, the first being an ice hockey player and holding the tag of 'Bloody O'Reilly' for his aggressive stances and being called to be tough as nails. The Big Unit or Randy Johnson is a former MLB pitcher, often referred to as 'Scary Randy' for his petrifying throws.
Paige topped the scariest athletes while saying, "Coming in at number 1, Monster of heavy-weights, Mike Tyson."
The last to scare the femme fatale Paige is James Harrison, from Pittsburgh Steelers with videos of him even calling him a tough player-villain. Well, looks like these players have earned sheer dominance in their pro sports. Paige Spiranac started the video by saying, "Known for terrorizing opposing offenses…" and the athlete's escapades followed with most of them as fitting as they can be.
Also read:- Paige Spiranac's STRONG-WORDED reaction over distressed Tom Brady situation, slyly roped in Greg Norman's 96 Masters
Also read:- Paige Spiranac's SULTRY MLB World Series image post tickled baseball fans' hearts