Paige Spiranac, an influential figure in the world of golf, continues to make headlines with her captivating presence on and off the golf course. This week, Spiranac's visit to the golf course caught the attention of many as she turned heads while meticulously checking her b**b tan in a stunning low-cut dress.
With her signature style and undeniable charisma, she effortlessly showcased her swing and shared the moment with her millions of Instagram followers. As the camera lens focused on Paige Spiranac during her round of golf with her friend Samantha Marks, it was not just her impeccable swing that drew the spotlight.
Spiranac, well aware of her massive following, captured the attention of fans and critics alike as she confidently conducted a tan line check, leaving everyone intrigued. In her trademark fashion, she promptly shared the snaps on Instagram and other social media platforms, igniting a storm of comments and reactions from her devoted audience.
Related: WATCH: "Stupid hole," Jason Day's HILARIOUS outburst on live mic shocks Jack Nicklaus at Memorial Tournament
Paige Spiranac's chest tan check raises eyebrows and enchants the golfing world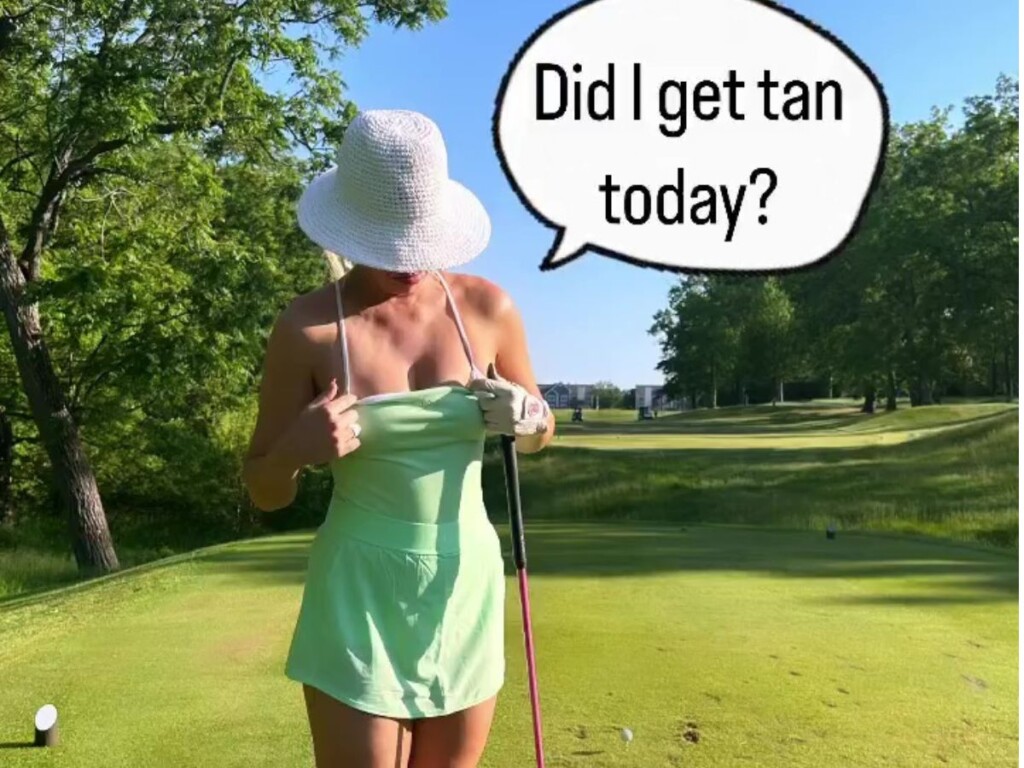 With an astounding 3.7 million followers on Instagram alone, Paige Spiranac has taken the influencer game by storm. Her social media prowess and engaging content have solidified her position as a trailblazer in the world of golf.
In a remarkably short span of time, Spiranac has managed to bridge the gap between golf enthusiasts and those seeking a fresh perspective on the sport. Her flawless online persona and unparalleled ability to connect with her community have propelled her to unmatched influencing fame.
Paige Spiranac's journey as an influencer continues to captivate millions, transcending the boundaries of traditional golfing circles. With every post, she grows her community and fandom, leaving a lasting impact on her followers.
As the blonde bombshell of golf, Spiranac brings a refreshing and dynamic approach to the game, opening new avenues for those intrigued by golf from a different perspective. Brace yourselves as she embarks on yet another exciting chapter, enchanting the golfing world one swing at a time.
Furthermore, Paige Spiranac's impact reaches beyond the golf course, as she actively uses her platform to promote inclusivity and break down barriers in the sport. With her unwavering advocacy for equal opportunities and her commitment to empowering others, Spiranac has become a beacon of inspiration for aspiring golfers and enthusiasts around the world.
By fearlessly challenging stereotypes and embracing her unique position as a golf influencer, she continues to reshape the landscape of the game and pave the way for a more diverse and inclusive future in golf.
In case you missed it: