Ross Chastain is slowly establishing himself as the dirtiest driver on the NASCAR grid without him knowing. The Trackhouse racing No:1 Chevy Camaro ZL1 driver, who had his break-out season last year, is known for his aggressive driving style. While aggression is the essence of racing in NASCAR, everything has its limits, and Chastain has breached them according to many, including two times Cup series champion Kyle Busch.
The first Road Course race of the 2023 season was hosted at COTA, and the race was an immense success if the overtime drama was disregarded. COTA witnessed some class racing and some unnecessary actions that ended races of few early. Chastain was among the drivers guilty of employing dirty tricks on his way to a P4 finish.
Kyle Busch, who finished the race on P2 Sunday behind winner Tyler Reddick once again started the 'lack of respect' discussion in NASCAR. He pointed out that he and the No:45 Camary raced the whole day respectfully and said that the 23XI Racing driver was the most deserving of the win. He then slammed the driver who drove aggressively on Sunday before looking and motioning towards Chastain, who was also giving interviews beside him. He clearly indicated whom the comment was aimed at with the move.
"The biggest thing was I got alongside Reddick there on that restart into the esses, and I could have forced the issue and pushed him off or whatever. But we ran each other hard. We ran each other clean and gave each other room. I respect the kid. He's been nothing but great to me, so I give him respect back," Kyle Busch said.
"We've had some good races between each other. They were really fast. They deserved to win. There's no sense in taking it from him. Somebody else that doesn't know anything about clean over here," Busch added before turning, looking directly at, and motioning toward the Chastain, who was talking to media on his left a few feet away.
In case you missed it: Tyler Reddick was unbeatable at COTA: Kyle Busch
Ross Chastain has been the villain of Kyle Busch's former teammate Denny Hamlin since 2022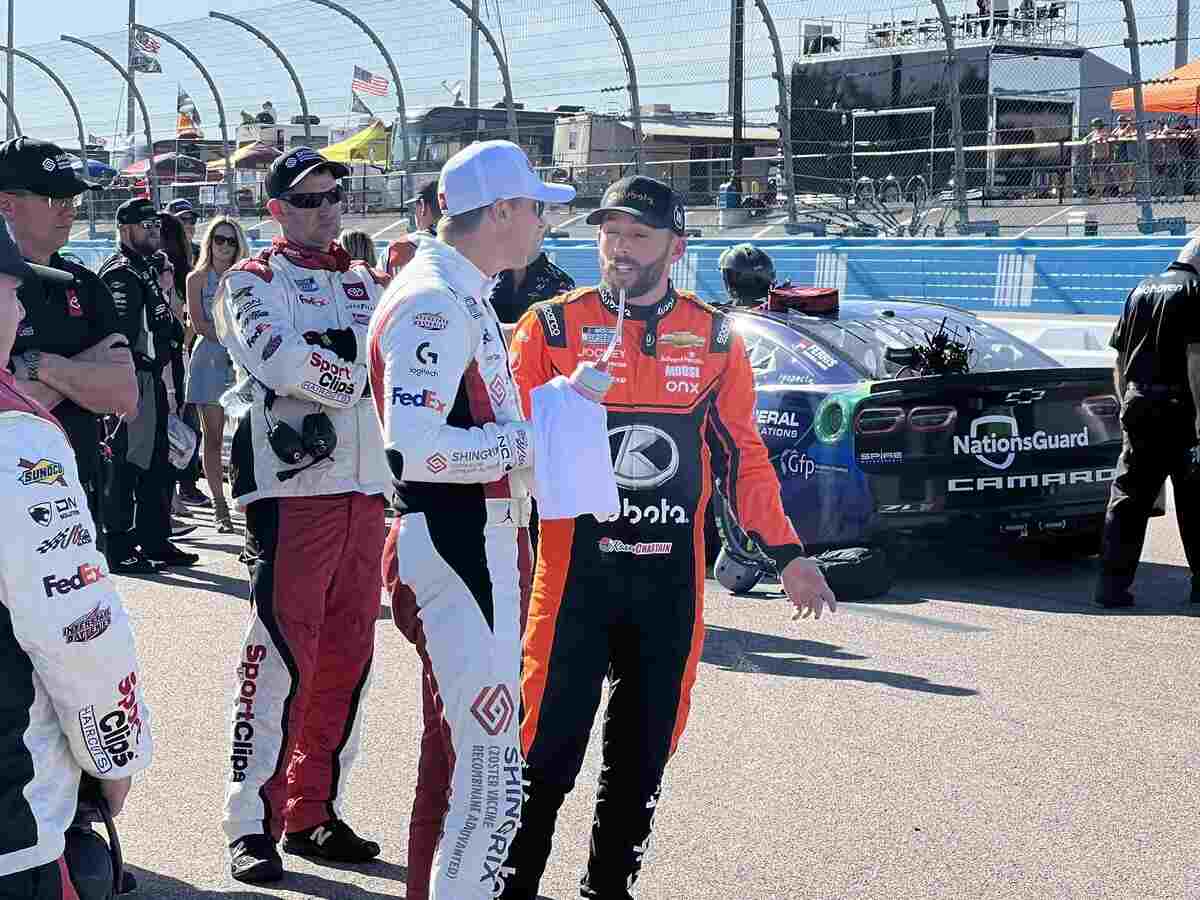 The Chastain-Hamlin saga is well documented and is one of the enthralling rivalries in the Cup series garage right now. Denny Hamlin is fighting a penalty imposed on him for deliberately trying to wreck the No:1 Chevy. He was penalized after he confessed his actions and motives in his podcast.
Ross Chastain isn't among the dirtiest drivers in the sport's history and will never be. But, one thing the watermelon man has to keep in mind is that he does have an issue with track aggression. The trait could be due to the fact that Chastain had never driven consistently competitive teams before Trackhouse, and thorough out his career, aggression was a necessary evil. But it's time to change the game plan.
Discover: