Aaron Rodgers is one of the biggest names in the NFL and is considered among the greatest quarterbacks of all time. During his 18 years in the league with the Green Bay Packers, Rodgers has amassed more awards, more accolades than one can count on their fingers.
Other than his once-a-generation football skills, the 39-year-old superstar is also famous around the league for his controversial takes on social topics, his relationships with Hollywood actresses, and his selfish behavior as well.
Rodgers was planning to retire last season after the Packers signed Jordan Love in the 2020 draft but stayed because the Packers offered him a three-year $150 million contract extension, making him the first quarterback in NFL history to earn $50 million per year. But recent reports suggest that he is probably moving on from Green Bay in 2023.
Related: Jason Kelce's wife: The beautiful and lovely Kylie McDevitt
Aaron Rodgers says every player wants to win an MVP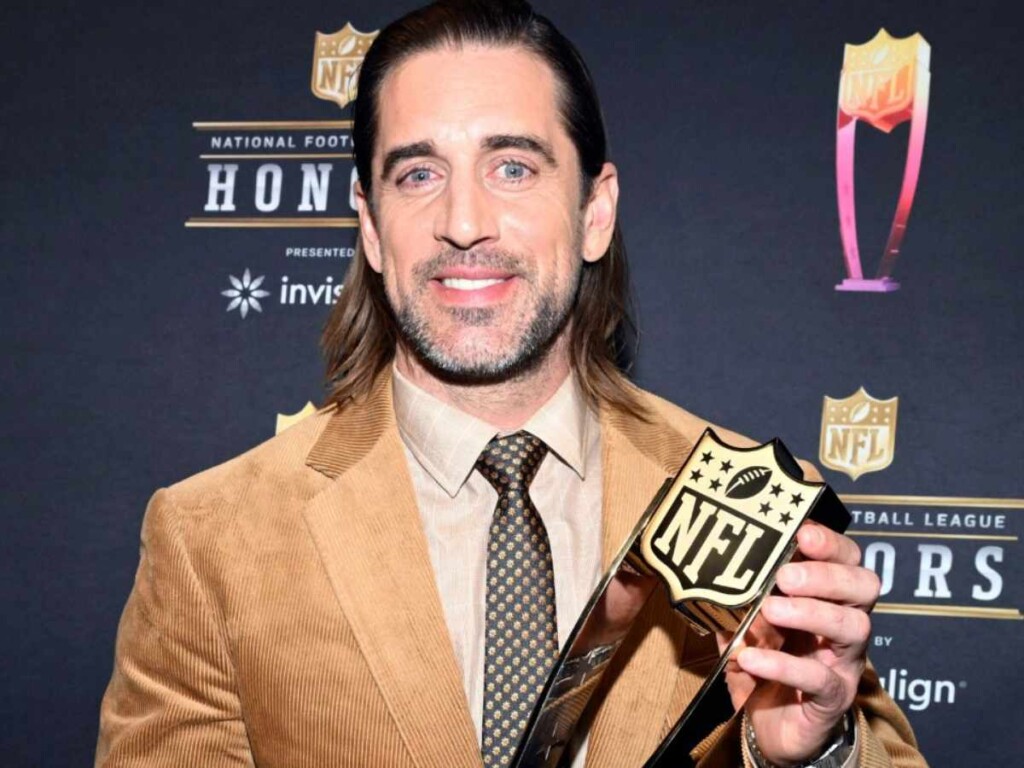 Rodgers has been a regular on The Pat McAfee Show talking about his future in the league and contemplating retirement, among other things. During one such talk, Rodgers said that he can win another league MVP with the right team next season. This comment did not sit right with a plethora of NFL pundits and fans who thought he was being selfish once again and only thinking about himself.
4x Super Bowl champion and one of the greatest tight end the league has ever produced, Rob Gronkowski also didn't agree with Aaron Rodgers. It's just that I think 'I could win another Super Bowl,' and that would have been totally fine. Like, bro, like why are you thinking MVP? Don't you want Super Bowls? Like Super Bowls are I think five times greater than an MVP award,"  Gronk said in a talk with Kay Adams on Up&Adams.
The veteran quarterback has finally given a reply to Gronk on his take on the MVP comments. "Everybody wants to win MVP. Like yeah you want to win a championship. 100 percent. Like you want to go down in history on a championship football team but everybody wants to win MVP too. You wanna be recognized as the best of the best," Rodgers said on The Pat McAfee Show.
The 4x league MVP also added that one might say that winning the championship is more important if they haven't won an MVP in their career. He said that winning the Most Valuable Player award signifies that you are indeed the best player in the league among hundreds of athletes. "Anybody who said they don't (want an MVP) is lying or non-competitive and either one of those, I don't wanna be a part of," Rodgers added.
Maybe both are right or maybe one award is superior to another. What will be interesting though is to see whether Aaron Rodgers can win an MVP next year or not!
Do follow us on: Facebook | Instagram | Twitter
Related: "Corny" – Patrick Mahomes' brother Jackson makes a fool of himself again trying to shoot his shot with IG model Alix Earle
Related: "Below average," Old comments of Nick Saban humiliating 49ers sensational find Brock Purdy in his University days resurface