With the offseason nearing, teams around the league are working day and night to keep star players on their roster without exceeding the salary cap, which is a monumental task for everyone, especially the Cincinnati Bengals. The Bengals have an estimated $44 million in cap space, which is the fourth-most in the league.
However, that doesn't solve all their problems. Joe Burrow is up for a contract extension and the Bengals are looking to keep him for a very long time and it's obvious that he will get a $50 million-a-year deal. Furthermore, star wideout Ja'Marr Chase will also get an extension on his rookie contract because there is absolutely no doubt he will dominate the league for years to come and etch his name alongside great wide receivers like Jerry Rice and Randy Moss.
Moreover, the Bengals also need to pay Tee Higgins if they wish to keep him on the roster. But by paying huge amounts of money to the LSU 2019 National Champions, Burrow and Chase, the Bengals will be stretched thin. There is a high possibility that Cincinnati may trade or franchise tag him.
Related: Donald Trump once ghastly predicted Jerry Jones will regret buying the Dallas Cowboys claiming the world will call him a 'loser'
Tee Higgins has one year remaining on his rookie contract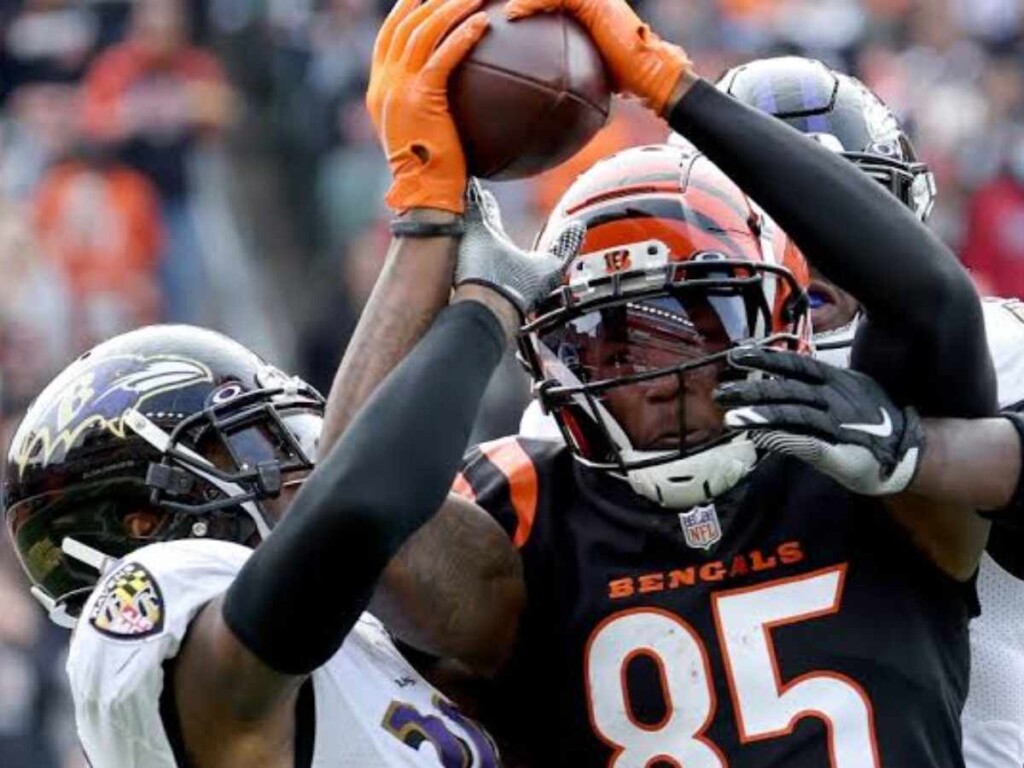 As reported by The Atlantic, wide receiver Tee Higgins could be traded if his asking price seems "outrageous" to the Bengals. Cincinnati selected Tee Higgins 33rd overall in the 2020 NFL draft and signed a four-year $8.6 million contract. The 24-year-old has been consistent during his three years and has back-to-back 1000 yards seasons. Higgins is now in the fourth year of his rookie contract, which will pay him around $4 million.
Despite his stellar performance, he still isn't the best wideout on the team, let alone the league. The Bengals will first look to secure Ja'Marr Chase and then Tee Higgins. With all the trade talks rumors floating around the league, Higgins finally acknowledged them and gave a befitting reply on Twitter. He wrote: "Here y'all go" as he knows how the media outlets will blow this thing out of proportion just to make a few bucks.
But in all seriousness, keeping Joe Burrow on the team is more important for the Bengals right now. If Burrow agrees to a pay cut so that the team and keep all the weapons just like Tom Brady has done his entire career, then maybe there is a good probability that Higgins stays on. But if he decides to take a $50 million salary just like a certain player from Green Bay, then Higgins could stand to lose his status as a Bengal.
Tee Higgins is a formidable receiver given his 6 feet 4 mountain of a structure, which makes it difficult for the secondary to fully cover him. His speed also makes him a danger, along with his ability to make those high catches. With Chase being double-teamed most of the time, Higgins makes those crucial downs most of the time. It'll be interesting to see what happens in the Bengals camps this off season.
A lot of changes are going to happen in Cincinnati for the 2023 season!
Do follow us on: Facebook | Instagram | Twitter
Related: Peyton Manning discloses his 'vital' advice for Eagles QB Jalen Hurts ahead of his first Super Bowl game to counter Patrick Mahomes
Related: "Runs in the family," Actor-comedian Michael Blackson, uncle of Eli Apple gives his two cents about the CB's 'controversial' trash-talks