Patrick Mahomes' recent triumph over the Cincinnati Bengals is one of the most historic wins. This will gain him an entry to the Super Bowl for the third time while also making him the first Black quarterback to start with opponent Jalen Hurts in the event's history. This incredible feat calls for a celebration, and Patrick's father knows it best to celebrate in style.
After Patrick Mahomes' triumph, Mahomes Senior celebrated his son's victory by lighting a victory cigar to celebrate the same. At Arrowhead Stadium, Mahomes and his dad celebrated gloriously while taking a jab at Joe Burrow during the celebrations.
In the video, Patrick Mahomes' wife, Brittany Mahomes, encouraged Patrick's father. She was heard screaming, "light that s**t," as everyone frantically celebrated Mahomes' third entry to the Super Bowl. Winning this Super Bowl would mean a historic feat for the Kansas City Chiefs QB, making him the first Black person to win multiple Super Bowls.
Related: "Go get another one champ," LeBron James shows out his love for Travis Kelce as Kansas City Chief head to Super Bowl LVII
Patrick Mahomes' wife and father grandly celebrate his victory to book a place at the Super Bowl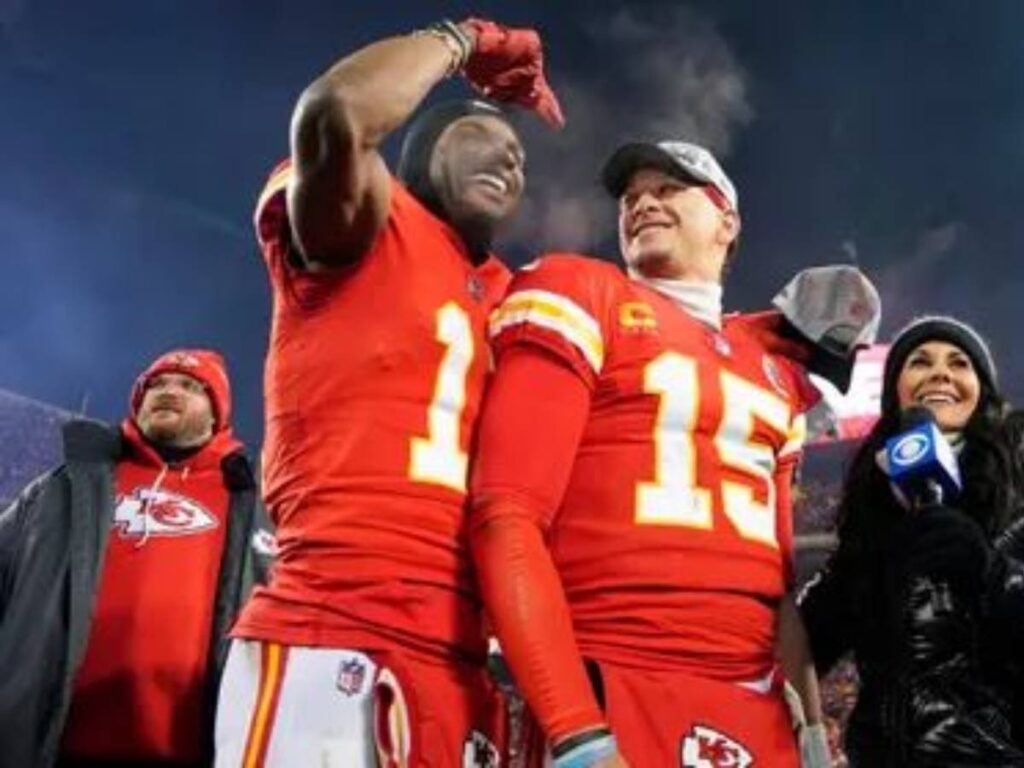 Patrick Mahomes' victory against the Bengals in the AFC Championships is a historic feat. This would mean that the Chiefs quarterback will be part of the first Black quarterbacks to start simultaneously for the teams seeded for Super Bowl. Alongside Jalen Hurts of the Philadelphia Eagles, Mahomes will be marking this historic feat on February 12, 2022.
While his entry to the Super Bowl is iconic, winning the same would add a beautiful layer of icing to the celebratory cake. If Mahomes wins this Super Bowl, he will be the first Black QB to win multiple Super Bowls. Mahomes last won the 2020 Bowl with the Chiefs as his side cruised past to victory against the San Francisco 49ers. He would gain a second consecutive entry to the grand event in 2021, only to lose to Tom Brady's Tampa Bay Buccaneers.
In his performance at the AFC Championship, Mahomes threw for 326 yards and scored two touchdowns to gain the Chiefs a well-fought victory. On the other hand, his Super Bowl rival, Hurts, threw for 121 yards to win 31-7 against the 49ers for their NFC conference victory.
The first Black quarterback to win the Super Bowl was Doug Williams. Since then, several other QBs, such as Steve McNair, Colin Kaepernick, and Donovan McNabb, have also appeared in the Super Bowls but failed to make a lasting impact. Interestingly, McNabb also lost his Super Bowl victory to Tom Brady while playing for the New England Patriots.
The Super Bowl LVII is scheduled for February 12, 2022, at 6.30 PM ET. Fans await to see whether Patrick Mahomes will be able to make history in this incredible event both in the history of NFL and the African-American community in the United States.
In case you missed it:
"Stressed, blessed and football obsessed," Gracie Hunt SHOWERS support for the Chiefs by posting a heartwarming AFC championship game-day reel on Instagram
"Get In The Game! WTF," Ric Flair urges Brock Purdy to fight through the pain following his elbow injury against the Philadelphia Eagles