Tom Brady is being criticized by the Philadelphia Eagles' fans on social media after a video of him replying sarcastically to Jalen Hurts' achievements goes viral. The out-of-context clip has over 1.5 million views on the Internet.
Tom Brady is one of the most decorated quarterbacks in NFL history. The veteran QB is well known for his passing abilities, but one of Brady's most underrated abilities is when he uses his legs for short yardage gain. He has 27 rushing touchdowns in his NFL career, which might be surprising for some people since he is not known for his rushing abilities. While it's true that he's not good with his legs in the open field, he's brilliantly good at sneaking the ball to gain short yards.
Just like Tom Brady, there's a young QB who's becoming really good at using the quarterback sneak. That young quarterback is none other than the Philadelphia Eagles' star quarterback Jalen Hurts. On Thursday, while Brady was speaking to the media ahead of his week 17 game against the Panthers, a reporter asked him whether he's been paying attention to Jalen Hurts' unprecedented stats in QB sneaks this year.
"He's done it 29 times, converted 27 of them, which has never been done that many times. I think the most that you had in a season was 18 in 2011. So I'm wondering if you've been watching him at all or paying attention to him since you've been so good at that in your career." asked the reporter. To which a sarcastic Brady replied, "wow, sick data".
This reply went viral on social media and many started accusing Brady of being dismissive of Hurts' achievements. Although many failed to the short was clipped out of context, since Brady was praising Hurts' abilities in the press conference.
Related : Top 5 biggest comebacks in NFL history
Tom Brady praises Jalen Hurts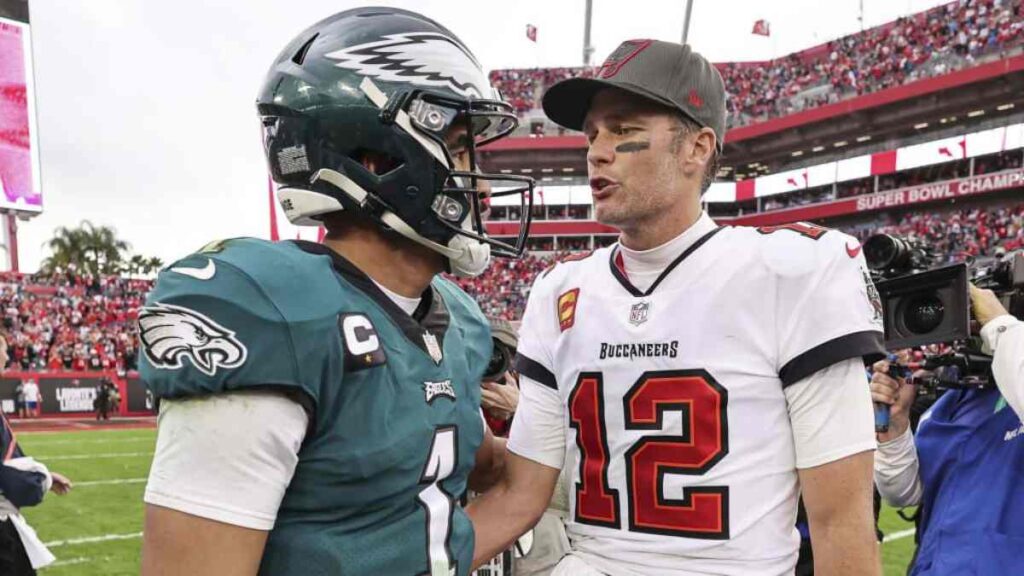 Speaking at the press conference on Thursday, Brady said he likes the way the Eagles are doing the quarterback sneak, and he's interested to see how defenses start to defend that.
"I like the way they're doing it. They're kind of making it like a rugby scrum a little bit, putting a lot of bodies in there which is a new take on it. It'll be interesting to see how defenses start to defend that." said Brady at the press conference.
He also praised Jalen Hurts, saying that Hurts' is a good young player, who is throwing, rushing, and sneaking the ball well. "But he's doing a great job, he's a great young player, he's throwing the ball well, running it well, sneaking it well. They're scoring touchdowns. They've got a great team." Brady said on Thursday.
Tom Brady and the Tampa Bay Buccaneers might have to face the Eagles in the playoffs, but for that, the Bucs have to defeat the Carolina Panthers, who they will be facing this Sunday. The Buccaneers have a chance to confirm their playoff spot by beating the Panthers in week 17 of the NFL regular season.
Do follow us on: Facebook | Instagram | Twitter
Related: "Trash a** Raiders" – NFL Twitter BASHES the Las Vegas Raiders for ruining Derek Carr's illustrious career and his legacy by benching him
Related: "His entitlement has ruined the team," Michael Lombardi BLASTS QB Russell Wilson over a broken Broncos locker room