Montreal Canadiens forward Mike Hoffman calls out NHL, as the league hands Boston Bruins forward A.J. Greer a one-game suspension. TD Garden Arena witnessed a series of scrums from big to small, as Bruins and Canadiens reignited their old rivalry in wrestling fashion.
Hoffman and Greer stood only in second place, while Patrice Bergeron, Brad Marchand, and Rem Pitlick's scrum on Thursday took the first spot. Although their bout was called on ice and players got penalized, the situation was resolved far early than the former incident.
During the scrum, Brad Marchand was handed a double minor as Rem Pitlick received a minor for interference. Pitlick elbowed Patrice Bergeron in the face before sending the Bruins captain flat on the ice. Following the incident, Marchand one-shot Pitlick, avenging his friend, lifting up the team spirit, and even getting complimented by coach Jim Montogomery.
Related: WATCH – Brad Marchand DESTROYS Rem Pitlick instantly after an elbow shot to Patrice Bergeron in Bruins 4-2 win against Canadiens
Mike Hoffman voices frustration over NHL call on A.J. Greer's play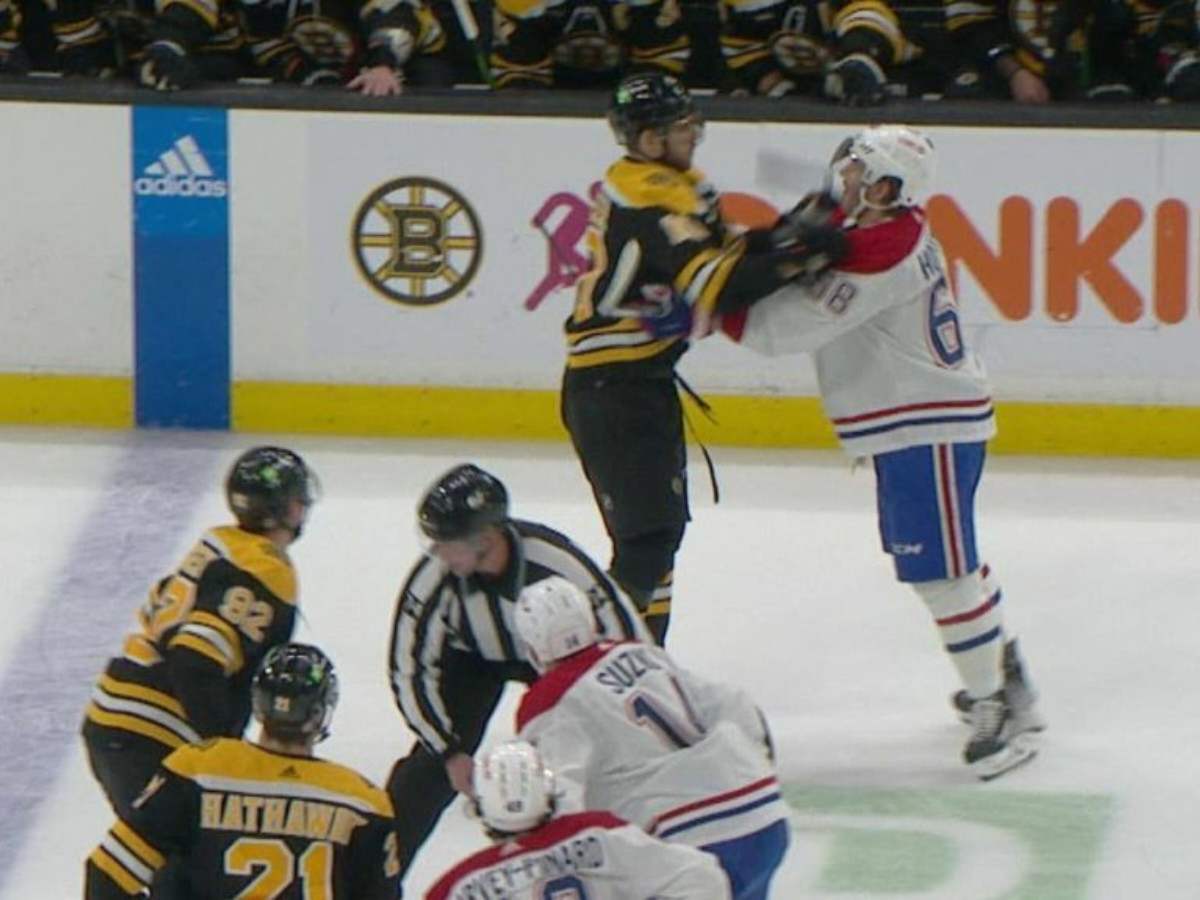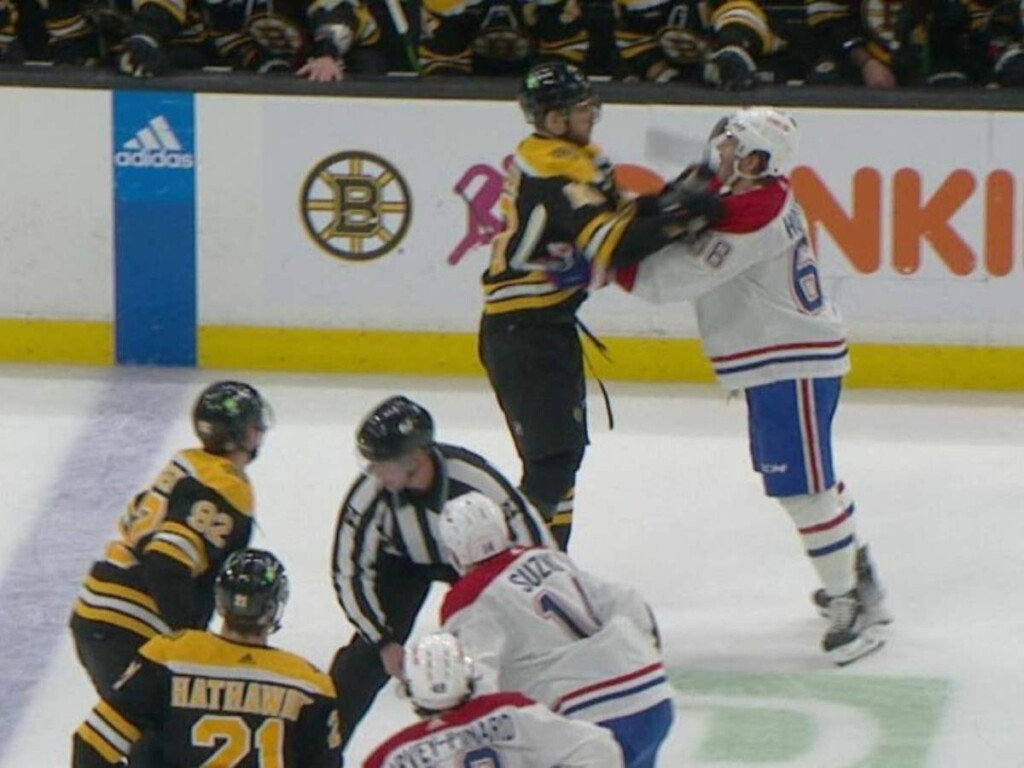 On Friday, the NHL Department of Player Safety announced that the Bruins forward A.J. Greer has been suspended for one game while receiving a 5-minute major and game misconduct for cross-checking Mike Hoffman.
The Canadiens forward expressed his dis-pleasant with the league's hearing stating he was suspended for two games in a similar situation back in the day. Hoffman posted a video on social media where he spoke out on the present situation and NHL's ruling.
In a statement, the NHL released, "It is important to note that this is not a case of a stick directed towards the body that rides up the opponent. This cross-check is delivered cleanly to the head of Hoffman."
"And while we understand Greer's assertion that he does not intend to strike Hoffman in this manner, players are responsible for their stick at all times. This is a careless cross-check delivered during a stoppage in play that strikes an opponent at a dangerous height, with the force necessary to warrant supplemental discipline."
Greer and Hoffman were exchanging small pushbacks when Greer slashed Hoffman right across the face in the neutral zone. Bruins coach Jim Montgomery stated, "Yeah well we talk about playing with emotion, which is great, but not getting emotional".
"It's something we can learn from in the playoffs because you can't take those kinds of penalties in the playoffs." In the 2022-23 regular season, A.J. Greer recorded 11 points in 52 games with 5 goals and 6 assists. On the other hand, Mike Hoffman made 29 points in 58 games with 12 goals and 17 assists this season.
In case you missed:
WATCH – President Joe Biden trolls Maple Leafs following his declaration of like towards Canadien teams "except the Leafs"
Ilya Samsonov and his wife Mariya celebrates the birth of their first child on social media