Vegas Golden Knight forward Paul Cotter found a new way of encouraging his teammates as the Flames kept on burning their team. Although VGK fell to the Flames in a 2-7 record, Cotter's brawl with Flames defenceman Troy Stecher re-energized the team.
Some called their fight a scrap of the 2022-23 season, while others simply cheered on them as fists blew in each other's faces. Both players dropped their gloves starting off an astounding fistfight on the ice. Although the Knights lost in the game, Cotter successfully ended the fight on top of Stecher.
Without the NHL official's intervention, they might've continued their fight for some more time, maybe one would've come out victorious. Cotter has been shifted to and from the lineup during this season. He may not have been able to contribute much in games, but the brawl against Stecher pumped up their teammates with the counterattack. 
Related: Marc-Andre Fleury "not surprised" as NHL SUSPENDS Jordan Binnington for actions in Wild vs. Blues game, NHL Twitter reacts
Paul Cotter and Troy Stecher drop gloves during Knights vs Flames game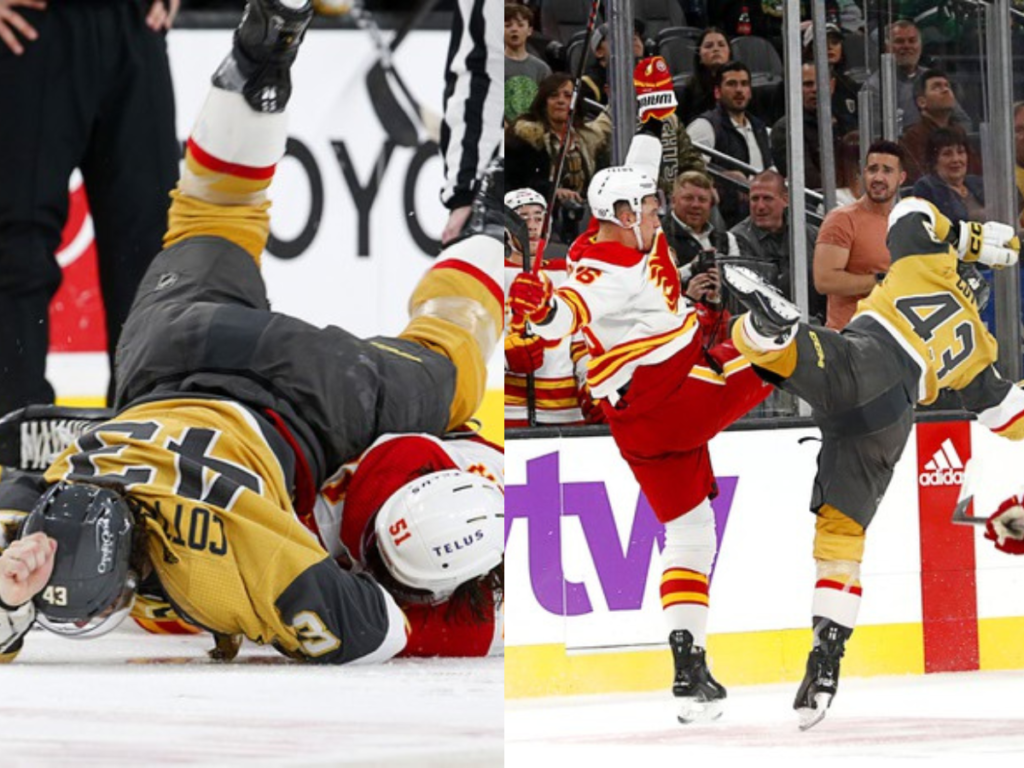 The Golden Knights were down 0-2 when Paul Cotter blew fuse with Troy Stecher. Following their brawl, the Knights tied the game with 2 goals from Zach Whitecloud and Reilly Smith. Apparently, Cotter had his jersey battered and needed a change-up after the incident.
Knights forward Reilly Smith said of Cotter's actions in the game, "He plays with a lot of emotion. I think we got a bit of a jump from that. It was nice to even up the game and give ourselves a better footing… Congrats to Paul. I think he's done a good job all year playing with a lot of excitement and emotion". 
Whitecloud noted, "It brings energy at that time in the game. For a guy like like that, and that's not me talking down to Paul, it's not something he normally does, and for him to be able to step up like that and get in the game that way it gets the boys going".
Cotter's fight with Stecher was praised by many, as they thought taking on the Flames' defenceman himself was a praiseworthy move. Especially since Cotter hasn't been quite active on NHL ice, taking on a player with four fights on his resume is an impressive feat.
The Knights forward as of now has recorded 2 points in his last 13 games. He's been shuffled in and out of the lineup quite frequently this season, though he's predicted to step in during the team's game against Columbus Blue Jackets on Sunday. 
During the March trade deadline, the Knights strengthened their roster with the addition of Ivan Barbashev, Teddy Blueger, and Pavel Dorofeyev. The team with their current loss stands at a 42-21-6 record while the Flames are currently running with a 31-24-14 score.
In case you missed:
"Great to come back" – Alex Ovechkin leads Capitals past Sabres in 5-4 win after return from lower-body injury
WATCH: Sidney Crosby notches 82nd point trailing Wayne Gretzky for most point-per-game season with latest milestone