In the recent year, NCAA swimmer Riley Gaines has become a staunch supporter of women's rights in sports. The whole fiasco began when Gaines participated in the 2022 NCAA competition against transgender athlete Lia Thomas.
Gaines' advocacy in support of women's sports has gained attention worldwide. Recently, her act has caught the eyes of the liberals who positively supported her recent activism. She thanked them for supporting her and for all the messages she got for standing up to protect women's rights.
Gaines noted that the liberals who pride themselves on the feminist movement are all seeing what's going on with the Democrat party now. According to her, it was just a few weeks ago when the "U.S House voted 'no' on promoting women and girls in sports." These acts have not gone unnoticed as these women have seen what's happening and "they're fed up" with this.
Related: Riley Gaines reveals details on 'traumatic experience' of sharing locker room with Lia Thomas and horrifying SFSU assault
Riley Gaines comments on the importance of women's rights in sports on Capitol Hill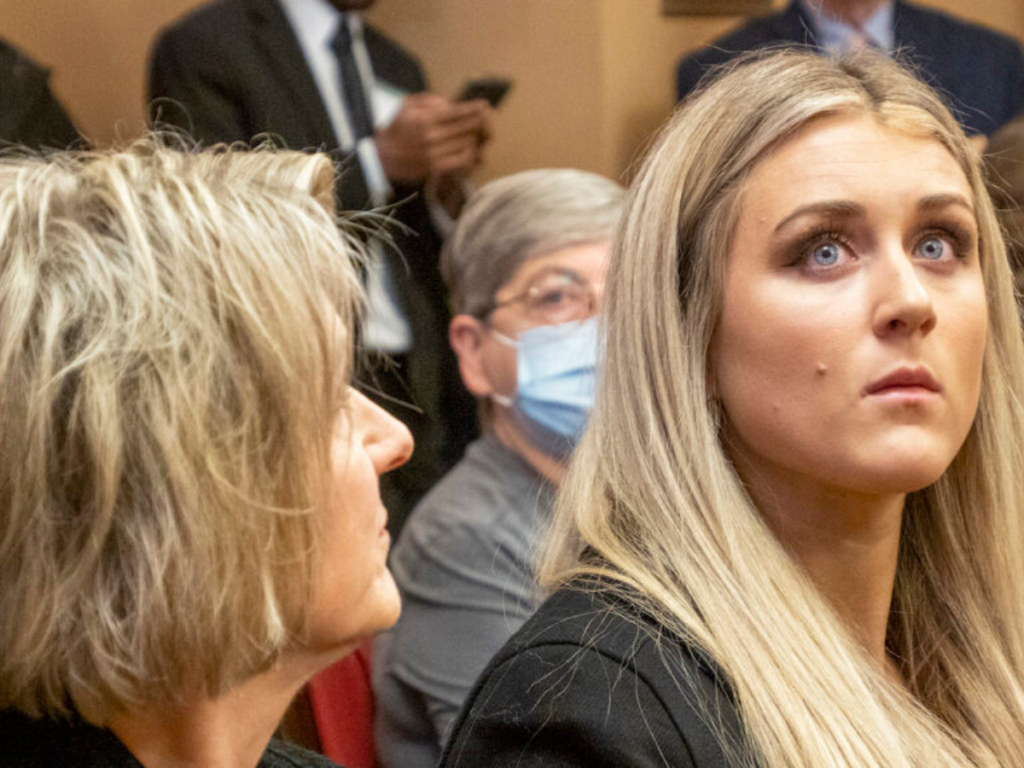 Riley Gaines further noted the "amazing" amount of support she gained from the liberal women, who consider themselves feminists. As the spokesperson for the Independent Women's Voice, she noted that these liberals are witnessing how the representatives are not listening to their constituents.
Gaines further blasted the Biden administration for even considering Title IX changes stating that'll create a huge surge in society, "The people in charge, the governing bodies, the representatives, the senators" are all "ignoring the demands of women". 
Gaines commented that it's not like women are demanding high-end justice, but instead just asking for the "bare minimum." After all, we all "want fairness, we want privacy, we want safety, and we want respect, and they're ignoring that." 
She said there never should've been a situation where they were a need to explain the term "women" or for women to go out and ask for their minimum right.
Gaines called out Adidas for allowing a biological male model to take over their latest project in female swimsuits in their Pride 2023 collection. She asked athletes to boycott the brand for their actions as it goes against women's rights acts. 
According to Daily Mail, she commented that as a female and a swimmer, it's "heart-breaking, or belittling" to see the recent companies allow men to advertise in women's clothes and this "feels like betrayal."
She hopes that athletes will have the courage to "come out and denounce it. That they'll say this isn't what I stand for." This choice and stance have to be made by them, even though it may be a hard step to take.
Riley Gaines revealed why she supports the bill and why it's necessary. She noted that even though it's 2023, and women have the right to vote and own property, they still have to go out of their way "to plead and beg for privacy in our locker rooms so we're not violated".
Today there is a need to define terms like "women" or "female" and for that people are fighting for justice. Until recently, there was no reason or any need for these terms to "ever need clarification." But the scenario has changed as women's rights are being threatened, according to Gaines.
In case you missed:
Riley Gaines files $2 million lawsuit against trans athlete Lia Thomas for cheating and exposing "male genitalia" in women's locker room
"Denies science, truth, and common sense," Riley Gaines lashes out on Biden administration for their proposed Title IX changes