Former World No 1 Martina Navratilova is one of the greatest players of the sport who has inspired millions of people in her career that lasted for almost four decades. Apart from her involvement in tennis, she has been very vocal with her opinions on various issues ranging from politics to the environment, and the list continues. She does not mince her words to put forward her unfiltered ideas. This time, she expressed her disgust over Donald Trump's account being reinstated on Twitter.
Though Navratilova has often been criticized for her unfiltered words, she does not pay any heed to all of them and preaches what she believes in. The former American legend has always advocated for gender equality and stood up for equal rights for LGBTQ+ community individuals. And that's why she has always resorted to her Twitter account to express her unfiltered opinions.
Elon Musk conducted a poll on Twitter asking if the former US President's account should be revoked and 51.8% of more than 15 million Twitter users voted for the ban to be lifted. As soon as the ban, the 18-time Grand Slam winner expressed her unhappiness over the decision. She indirectly hit out at the 45th US President and called him pathetic while claiming that he tried to overthrow the election. This is not the first time he had faced the wrath of Martina Navratilova's brutal opinions.
"Or crying about a former president who tried to overthrow our election at all. His time will come- way too many irons in the fire…also he is too pathetic to dislike, coward cadet bone spurs," posted Navratilova on her social media Twitter account.
Also Read: Martina Navratilova calls Donald Trump a "malignant narcissist" after he accuses the opposition of targeting him following his Presidential run announcement
Martina Navratilova expressed her displeasure over the atrocities toward a teacher in Ontario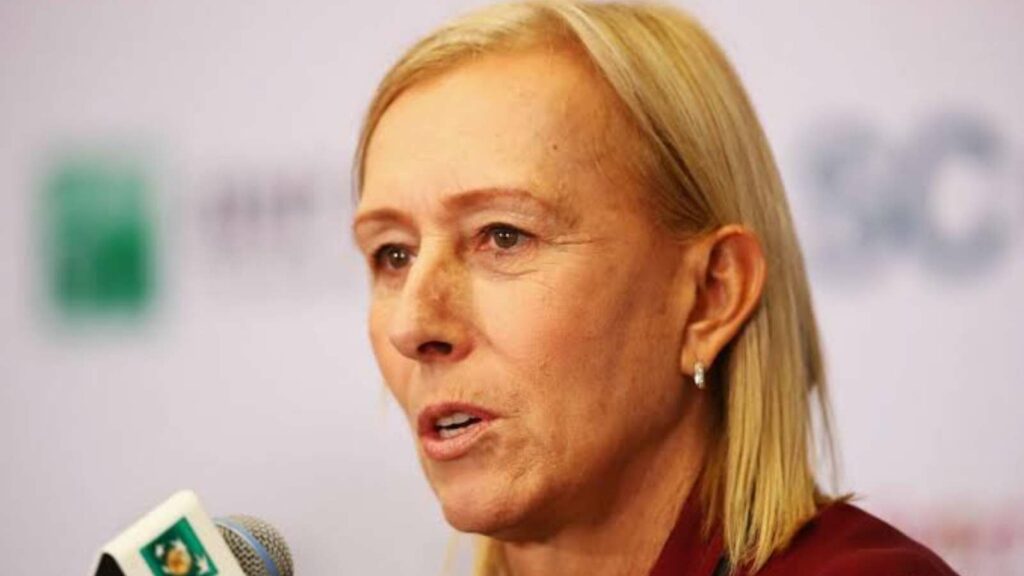 She has never denied her sexual orientation, for which she had admitted at times of receiving unjust behavior. The homophobic spectators of the game subjected her to constant criticism, heckling, and discriminatory behavior. The former 4-time US Open champion admitted that she remained distant from the fans and let her achievements do the talking. She retired with 18 singles titles, 31 major women's doubles titles, and 10 major mixed doubles titles.
The former Australian Open champion has always stood up for fighting for equal rights for gay individuals. True to her belief, Martina Navratilova expressed her disgust over the atrocities shown toward a biological male teacher in Ontario.
The school board had allowed the teacher to wear inappropriate props to school. To which the former Wimbledon champion thought to be quite disappointing. As per the tennis legend herself, making fun of women and the trans community, in general, is totally unacceptable and she does not approve of it at all.
Also Read: "He's a player that doesn't have many weaknesses, but he's a human" Casper Ruud ready to battle Novak Djokovic for the title at the ATP Finals
Also Read: "I learned so much about myself as a player and as a person" – Caroline Garcia pens down a heartfelt note following her impressive comeback