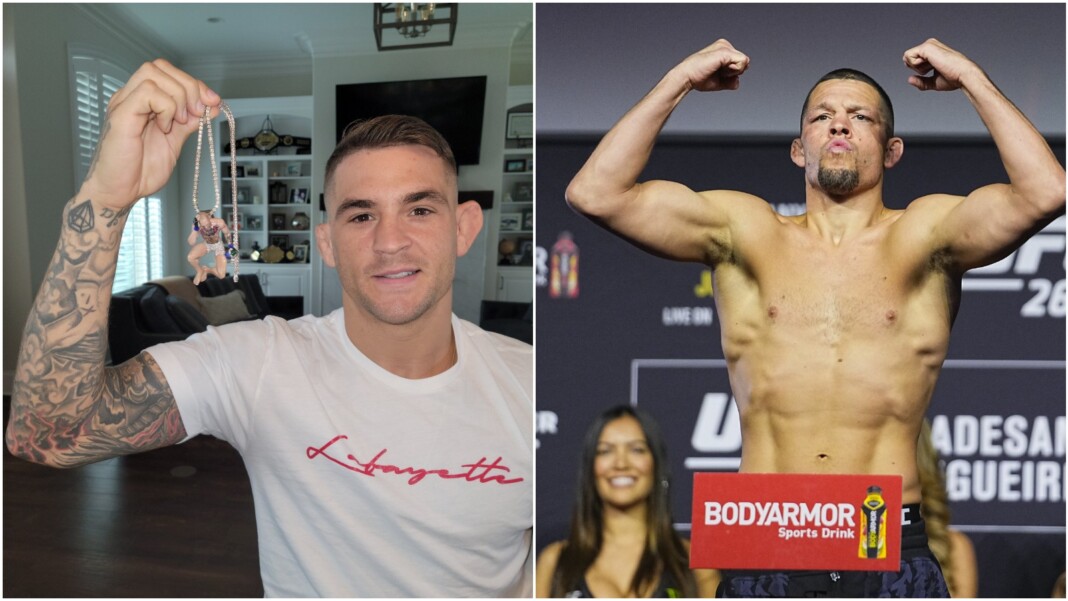 Dustin Poirier is fresh off his win over Conor McGregor at UFC 264. Although, it wasn't how he wanted to win the fight, 'The Diamond' could do nothing but look on as McGregor snapped his ankle towards the end of the first round. Poirier won via. TKO due to a doctor stoppage. With that win, he also cemented his place as the number one ranked lightweight fighter in the UFC, thereby also earning a title shot against Charles Oliveira.
Earlier today, UFC welterweight veteran Nate Diaz called out Poirier for a fight in the middleweight division. A confident Poirier replied stating that he was ready to take him on at any weight. 'The Diamond' sent out a stern warning to the 'Stockton Slugger'.
'185lbs, pull-up' – Nate Diaz
Diaz wrote, "185lbs, pull-up." A while later Poirier replied, "I'd touch you up at any weight."
It is worth noting that Poirier and Diaz were just days away from fighting at UFC 230 in November 2018. A fight between the two was agreed upon in August 2018. The fight was set to co-headline UFC 230 on the 3rd of November in 2018. With only three weeks left for the fight, Poirier pulled out on the 10th of October 2018, stating an injury.
"Got the sleepy mac chain today from Jake Paul" – Dustin Poirier
Jake Paul's gift- Sleepy Conor McGregor has finally reached Dustin Poirier. The YouTuber wrote on Twitter yesterday that the $100,000 worth chain was on its way. On receiving the chain, Poirier wrote on Twitter that he would be auctioning it soon for the Good Fight Foundation.
Poirier wrote, "Got the sleepy mac chain today from @jakepaul I will be auctioning it off soon for @TheGoodFightFDN To do something big in Lafayette!!"
Also Read: Watch video: Conor McGregor breaks his ankle against Dustin Poirier at UFC 264
Also Read: UFC 264 (main event): Dustin Poirier beats Conor McGregor as 'The Irishman' breaks his leg; doctor stoppage victory