The 'Notorious' Conor McGregor is widely known for his flamboyant personality and his fights in and outside the octagon. Although, being out of action for more than a year since his heinous leg break in his fight against Dustin Poirier, hasn't stopped him from voicing his opinions.
The Irish Supernova took to Twitter to address his opinions on 'spitting' and 'snot rockets' during fights in the octagon. McGregor stated that he was repulsed by how 'disgusting' of a habit it is for fighters to expectorate amidst the fights. Also further stating how these 'habits' must cost the fighters, a deduction of points for the match.
This tweet was in reference to the Luke Rockhold vs Paulo Costa fight which took place on August 20, 2022, and the Michael Chandler vs Dustin Poirier fight which went down on November 12th of that same year. During these fights, the fighters would go on to blow their noses and smear their blood on each other.
"It's a ridiculous habit some people have," said McGregor. "It should be abolished via threat of point deduction" referring to how the UFC must sanction the fighters for these 'habits'. Conor also added, "There should be no spitting or snot rockets permitted in the octagon whatsoever".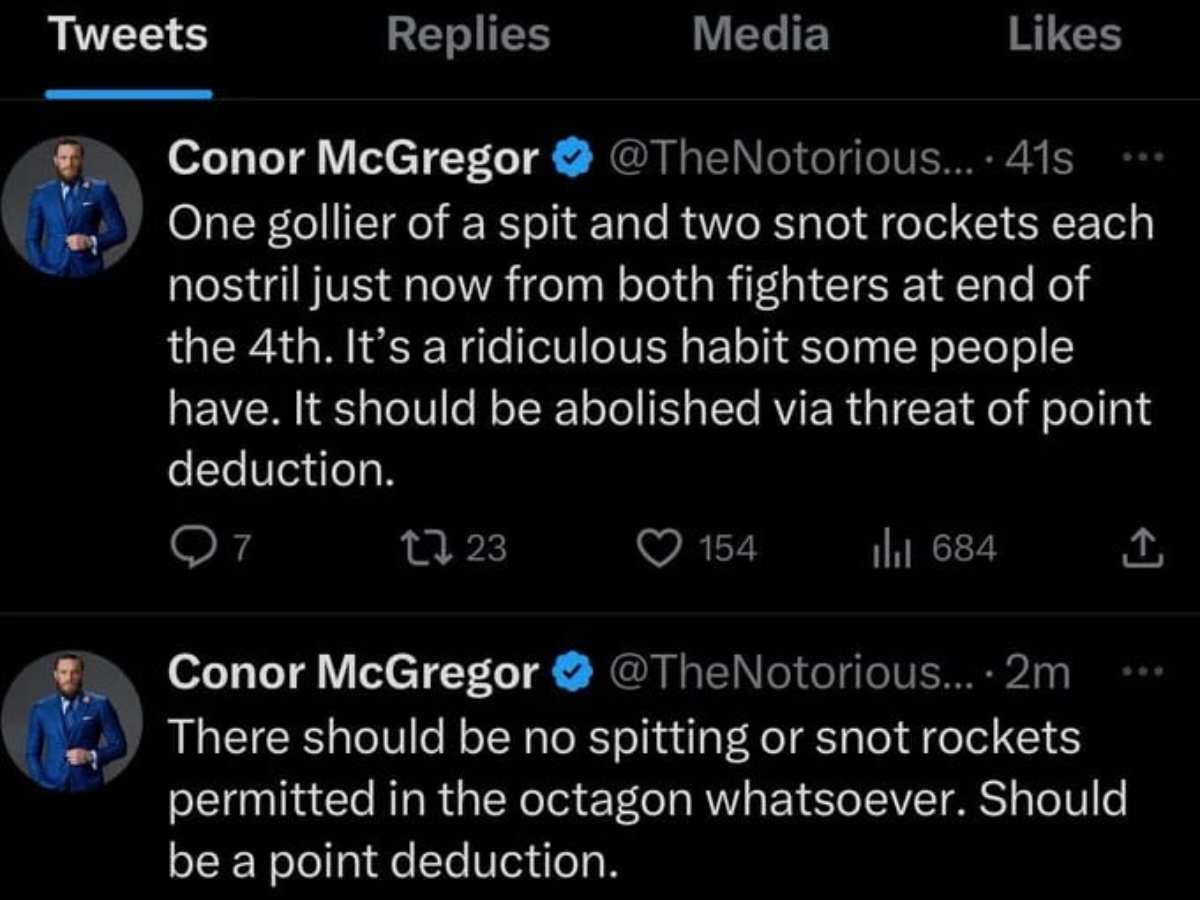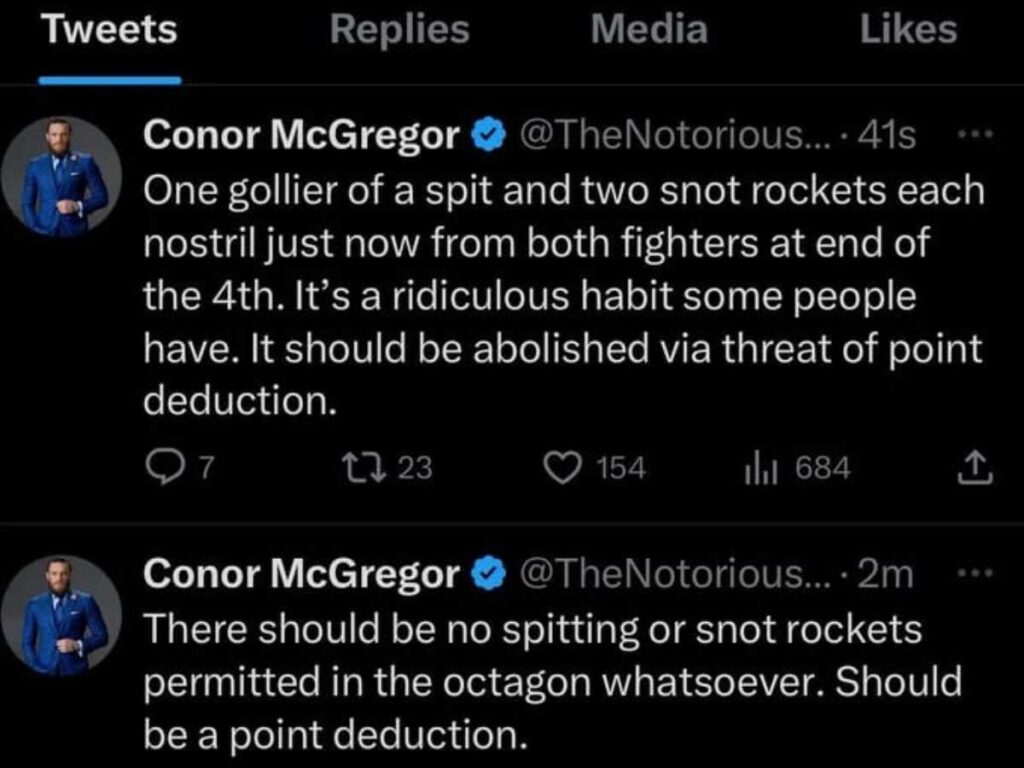 Related: "Dana might have to bail him out of Disney jail" – Superstar Conor McGregor's Mickey Mouse attire in latest Disney vacation has fans in splits
Like Conor McGregor, Dustin Poirier was also repulsed at Michael Chandler's expectoration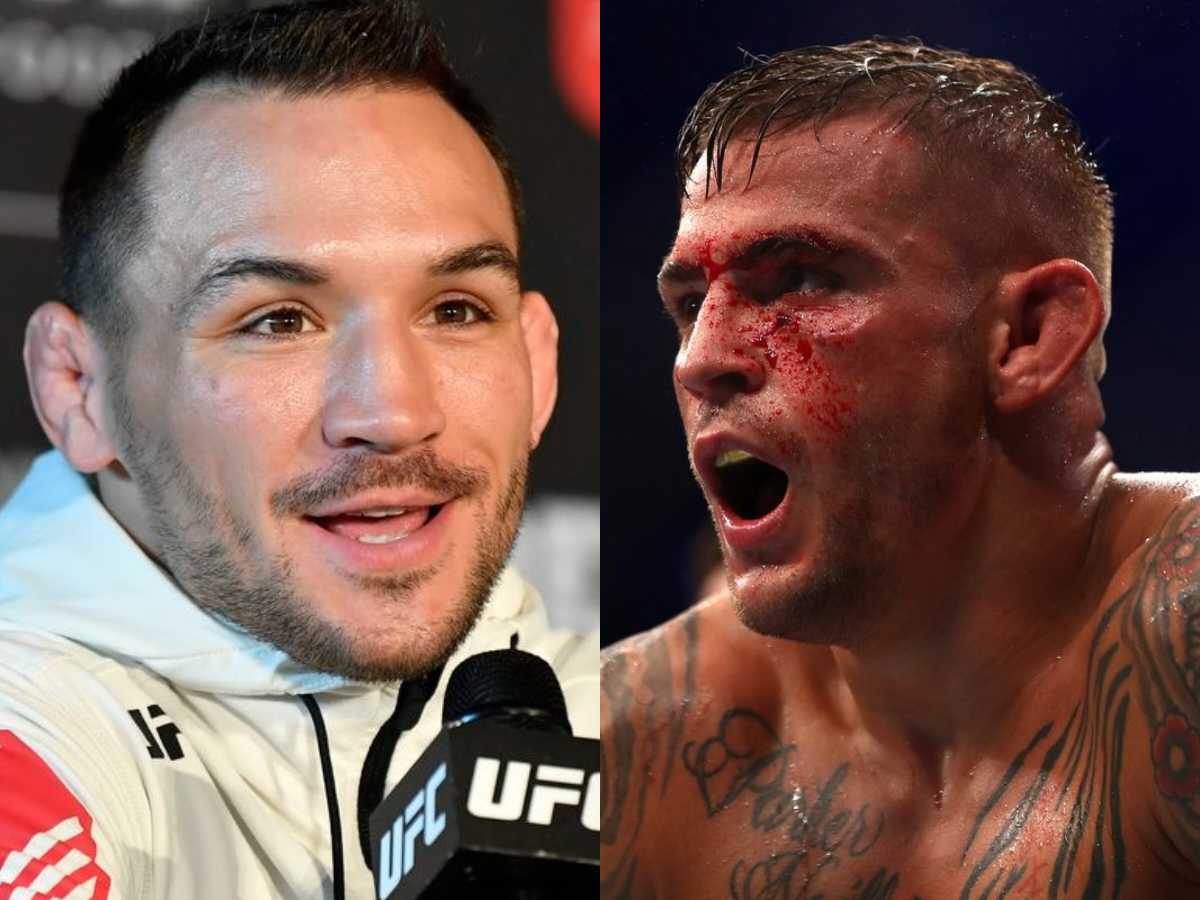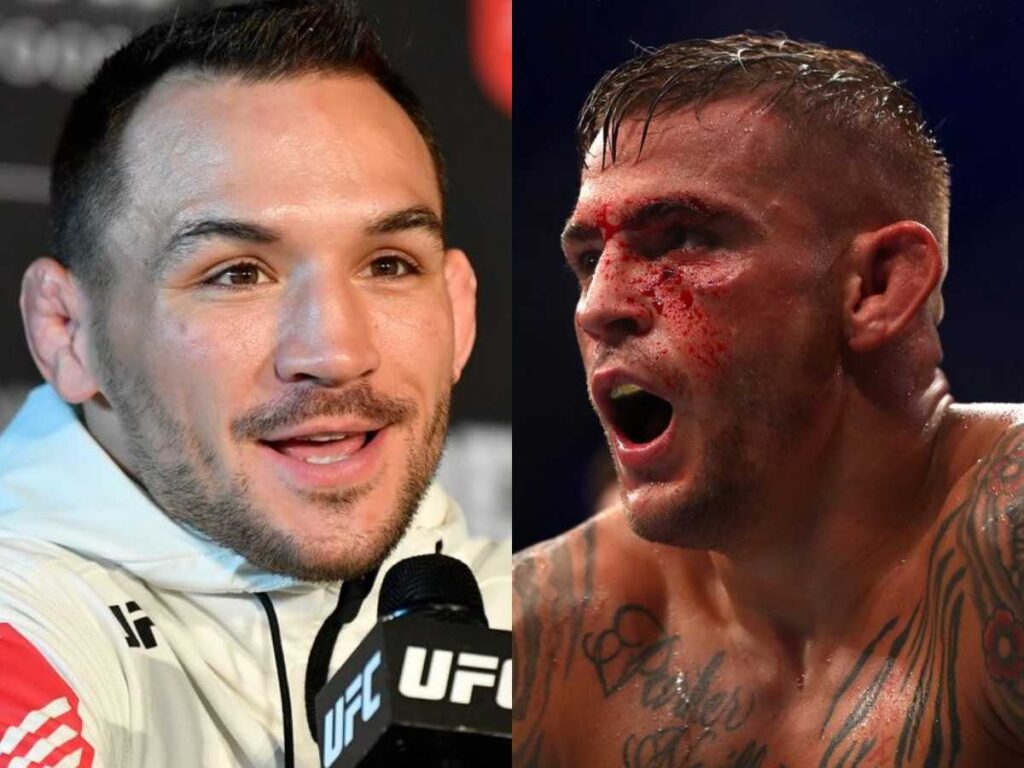 Dustin Poirier seems to be in disgust about what happened between him and Lightweight Champion Michael Chandler during their bout in 2022 proceeded to call him a 'dirty motherf*****'. Poirier fell victim to Chandler's blood smearing during their exciting fight.
At UFC 281, UFC Lightweight Champion Dustin Poirier won during his bout against Bellator Lightweight Champion Michael Chandler. Although winning the fight was a delight for Poirier, he was nauseated by Chandler blowing his nose on him and pushing his fingers down Dustin's mouth.
In the post-fight press conference at Dustin Poirier vs Michael Chandler, the 'Diamond' had his opinions on Chandler's 'dirty' tricks on him. "I told him he's a dirty motherf***er too, for putting his fingers in my mouth and blowing his nose," said Poirier. Besides being repulsed by Michael Chandler's actions, Dustin Poirier went on to beat him and win the fight via submission in the third round.
Incase you missed it :
"He really slapped Tim omg," Luke Rockhold's playful wrestling with Tim Duncan sparks hilarious fan reactions
Cormier doesn't make those decisions," Dana White dismisses DC's suggestion of Belal Muhammad fighting for welterweight title over Colby Covington