Joe Rogan is one of the most famous names when it comes to combat sports, although, he has been the UFC's voice for almost 20 years now. He is as famed as he is not just because of the UFC's exposure but also because of the JRE Podcast, his stints on Fear Factor and MTV and more.
So, it should come as a surprise to know that he and veteran comic Dave Chappelle were asked to give up their seats for rapper Travis Scott at the recently held boxing trilogy between superstar Canelo Alvarez and Gennady Golovkin.  
Speaking with Tony Hinchcliffe and Hans Kim, on his podcast, he said, "Chappelle and I were in the third row, which was amazing. We were like, right there and then this guy comes over and says, 'You guys have to move. These tickets are not yours.'"
It wasn't all bad though, as the rapper in question turned out to be none other than Travis Scott, and the man who had tried to shuffle them out of their seats offered them better ones. "The guy comes back and said, 'These seats are actually for Travis Scott, but we want to put you on the ringside'" Rogan said.
Speaking about his experience ringside, he said, "We're sitting like where the officials sit. It was incredible. They were right there. It was really good, and we saw like the last six rounds like that."
Related- What is Joe Rogan's MMA record?
Canelo has brutally brushed aside any talks of a fight with Kamaru Usman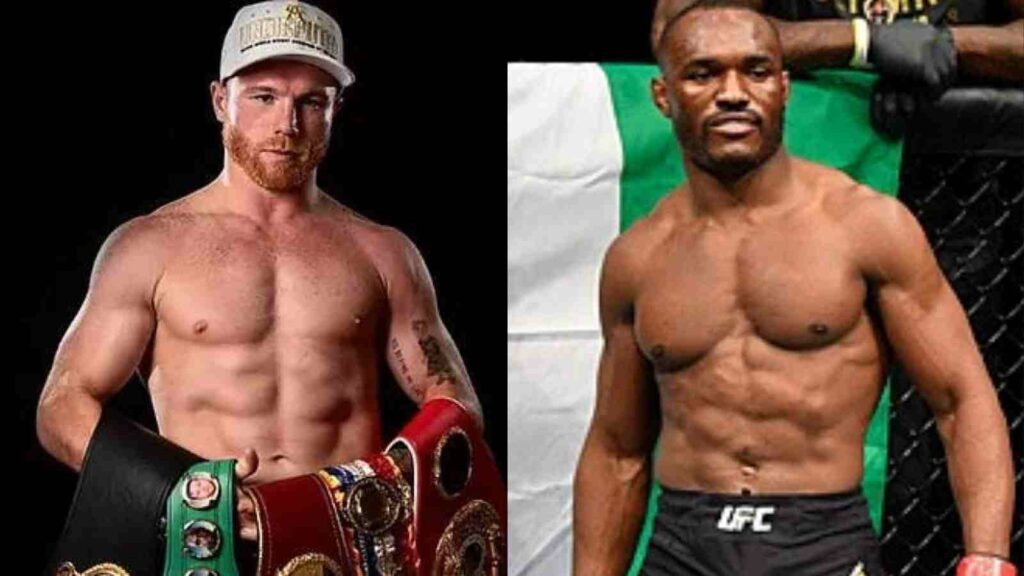 Talking of the fight itself, Joe Rogan said, "It was a really good fight. I mean, Canelo Alvarez is a bad motherf*****.  GGG tried to turn it on at the end, he just didn't have enough to take the decision."
The Mexican superstar had struggled against the veteran Kazakh boxer in their last two fights, but this time outclassed the aging Golovkin. This was a much-needed win for Canelo, as he was defeated only for the second time in his boxing career, by Dmitry Bivol.
While talks for the Bivol-Canelo fight were ongoing, ex-UFC pound-for-pound No.1 Kamaru Usman was also trying to inch away at a crossover fight against the Mexican. The Mexican had choice words for Usman, as he simply said, "Payday" signalling the Nigerian fighter's wish to earn bigger stacks.
Also Read- "The place was going nuts" Dana White christens THIS MOMENT as his favourite Jose Aldo memory
Now, in a bid to clarify his statement, he has said to Usman that the fight can possibly happen but just doesn't seem to be in the cards right now.
This will be the second time that a UFC star has attempted to crossover to boxing, the first one being Conor McGregor, who lost to Floyd Mayweather in 2017. While Kamaru Usman is unlikely to get a crossover match like McGregor got (especially after getting knocked by Leon Edwards!), one must also remember that from 2015 to 2017, Conor McGregor was arguably the biggest sports star in the world, alongside Cristiano Ronaldo and Lionel Messi.
Also Read- "We're KIN to each other," Mike Perry pulls a unique similarity with the legendary Diaz brothers post-Nate Diaz callout