Royal Rumble 2022 is just a couple of weeks away. Usually, it is the first PPV of the year for WWE, but this year that distinction wen to Day 1. But the excitement for Rumble is as high as ever – as it will be kicking off the Road to Wrestlemania. Considering the dominance of the current Champions – Roman Reigns, Brock Lesnar, Becky Lynch and Charlotte Flair, the event is going to be as exciting as ever.
In addition to kicking off the Road to Wrestlemania, the event is also popular for their traditional Royal Rumble matches. While there has been no announcement on the Women's Rumble match as of now, a few participants have been announced for the Men's match. Interestingly, out of the 5 participants announced so far – 4 Superstars would be making their Rumble debuts.
Rey Mysterio, Dom Mysterio, The Street Profits announced their participation in the Men's Royal Rumble 2022 match during the Raw episode. Out of them, only Mysterio has experience of participating in a Rumble match. In fact, he has even won the match. Way back in 2006, at Wrestlemania 22 – Randy Orton and Mysterio were the final two of the 30-man battle royal. The Master of 619 eliminated Orton for the historic win.   
While the aforementioned 4 participants themselves announced their participation in the Men's Royal Rumble match, there wan one Superstar who was added to the match by none other than the company's CEO and Chairman Vince McMahon. Austin Theory, who has been regularly featuring in matches with McMahon revealed that Theory would be a part of the match too.
WWE Royal Rumble 2022 match card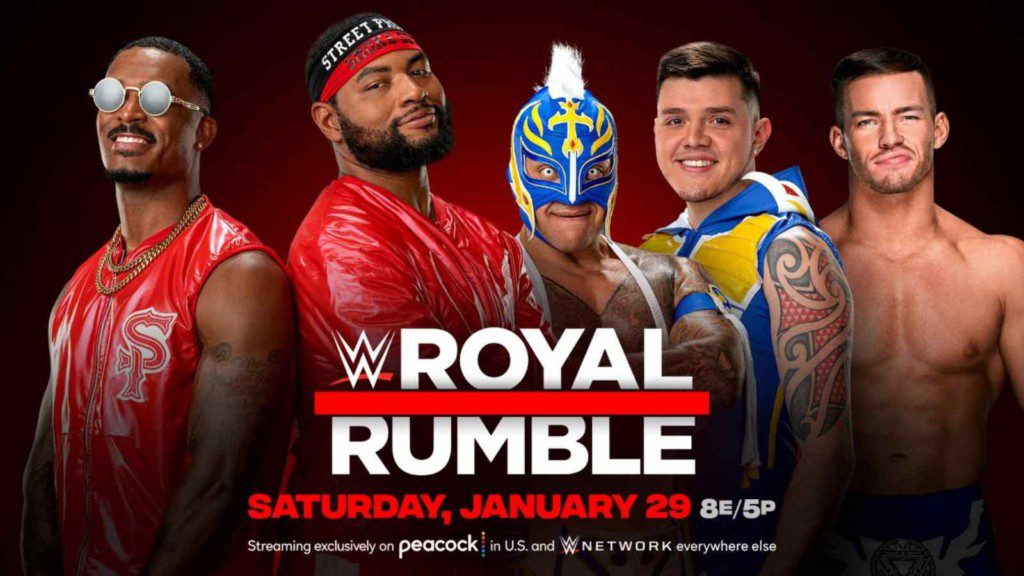 Royal Rumble traditionally features the two Battle Royal matches – one each for the Men and the Women. These two matches take up nearly two hours of the shows runtime. While there isn't much time for other matches to be added – WWE has already announced two more blockbuster matches for the night.
The WWE Royal Rumble 2022 card currently includes:
WWE Championship match: Brock Lesnar vs Bobby Lashley
Edge and Beth Phoenix vs The Miz and Maryse
Men's Royal Rumble match (Rey Mysterio, Dom Mysterio, Montez Ford, Angelo Dawkins, Austin Theory…TBA)
Also Read: "Own egos and problems," Cody Rhodes spills some beans about AEW's backstage scene