Two-time WWE Hall of Famer Shawn Michaels is known for his classic matches and in-ring performances. Shawn's contribution to WWE during the New Generation Era is noteworthy. On the other hand, Hulk Hogan was one of the superstars who laid the foundation of the company and ruled the Golden Era of WWE. Hogan became one of the most sensational superstars, being the inspiration for emerging wrestlers.
The night of SummerSlam 2005 saw these two icons battle in a dream match, stated by the fans. The rivalry for this feud was started by HBK when he turned heel on Hulk Hogan and challenged him to a match. It was looked upon as a classic match between two of the greatest generational stars WWE had seen until it happened.
The match was special as it had the legends clashing against each other for the first time. It was also popular because Michaels oversold the majority of Hulk's moves in a humorous way. A simple push from Hogan made him fall through the rings at ringside, making it disrespectful for him. The reason behind this overselling of moves was Shawn Michaels' predetermined loss and his will to make the Hall of Famer's win look comical.
According to the original plans of WWE, the feud between HBK and Hulk Hogan was set up for two matches. With both matches to be won by Hogan and Shawn, respectively. But upon Hulk's disapproval, the rivalry was shortened to only one match as he was unfit for another match against the Degeneration X member. Due to this frustration, Michaels oversold his opponent's moves hilariously, showing his dissent.
Related: When Rob Van Dam called young Shawn Michaels in his prime "a di*k" for dripping with insincerity
Fans react to Shawn Michaels overselling Hulk Hogan's moves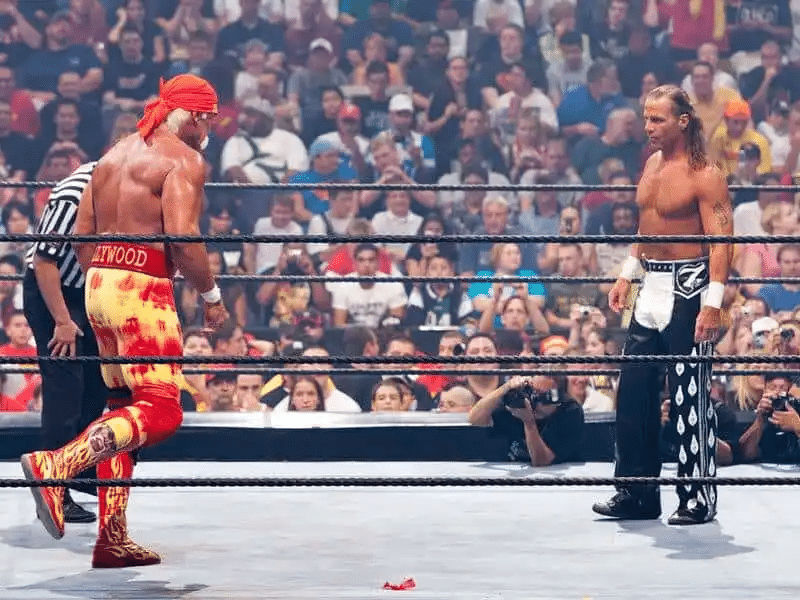 On August 21, 2005, at SummerSlam, the WWE Universe witnessed Shawn Michaels and Hulk Hogan facing each other for the first time. The match started slow but took a hilarious turn when The Showstopper oversold Hogan's moves. Shawn's needless act was his way of protesting against the company for his predetermined loss. A video posted on Twitter brought back the moment for many fans, who reacted hilariously to it.
HBK purposely made it look disrespectful to Hulk Hogan, as he disagreed with losing the match and denying another match with him. It resulted in Shawn's loss while giving Hulkster his comical win. The match was memorable in its own way, as it was described as "Clash of Egos" between the two icons.
In case you missed it: