Ronda Rousey made her triumphant WWE return by winning the women's Royal Rumble last year. She eventually went on to become the SmackDown women's champion after WrestleMania 38. However, her title reign turned out to be disappointing, as the charisma and aggression she had during her previous run were lacking. After winning the championship two times last year, Rousey lost the title on the final SmackDown of 2022. Following her title loss, Ronda has been appearing on TV along with Shayna Baszler.
A few weeks ago, Ronda Rousey was set to appear on an episode of WWE Raw for a WrestleMania match build-up. However, she couldn't show up to Raw, possibly due to an injury. According to the reports, the original plans were for Rousey and her partner, Shayna Baszler, to win the women's tag team titles at WrestleMania 39. Nonetheless, those plans have been scrapped now, as both Ronda and Shayna are out of the title picture.
The Baddest Woman on the Planet is currently suffering from an arm injury. However, according to Dave Meltzer, Rousey will not miss WrestleMania this year due to the injury. Considering Ronda will recover prior to Mania, WWE has reportedly changed its plans for the former women's champion.
Ronda will reportedly be competing in some other match at WrestleMania 39. This automatically means Shayna will be in some other role at Mania as well. However, it has not been revealed who Ronda's or Shayna's opponent might be. Fans should stay tuned, as the latest reports indicate. More updates regarding Rousey's opponent will be provided soon.
Related: Ronda Rousey got snubbed out of SmackDown Women's Championship due to her own choice
Reason why Ronda Rousey dropped the title last year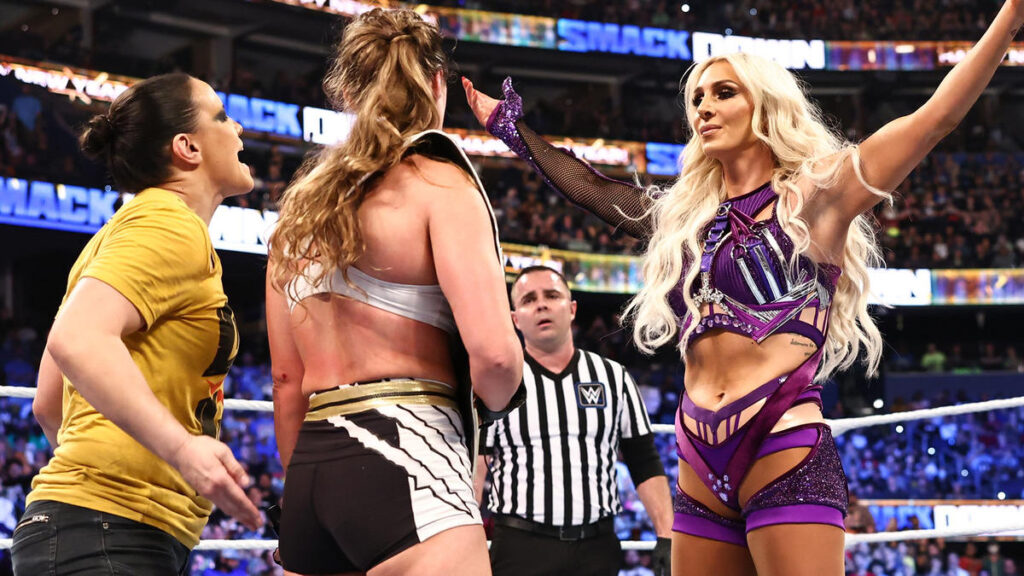 Ronda Rousey won the WWE SmackDown Women's title for the second time by regaining it from Liv Morgan last year. After a decent run, she lost the title to a returning Charlotte Flair on a December SmackDown episode last year.
The reason for Ronda's loss was later revealed to be a pre-planned WrestleMania 39 match. Rousey was reportedly set to team up with Shayna Baszler to compete for the women's tag team championships at WrestleMania this year.
They were rumored to capture the titles from Damage CTRL or Becky Lynch and Lita as well. However, that will not be the case anymore, as the current women's tag team champions, Becky and Lita, are set to team up with Trish Stratus to take on Damage CTRL at the Show of Shows.
In case you missed it: