Julianna Pena and Daniel Cormier are two very different kinds of champions. One who was arguably among the biggest upsets in UFC history and the other one of the most consistent fighters of our time. Hence it came as a surprise to many when Pena took shots at Cormier for his views on her future matchmaking.
Pena has recently re-ignited her campaign to get back at bantamweight champion, Amanda Nunes with their trilogy bout. In their previous fight at UFC 277, Nunes battered Pena from the opening buzzer to the closing one, scoring 5 knockdowns in total. Pena's face, a bloody mess, reinforced the idea that her first victory against Nunes was likely a fluke.
Cormier comes from the same line of thought and believes that her run as a champion certainly doesn't warrant an immediate rematch. Taking offense to this Pena took her frustrations to Instagram and took shots at the former two-divisional champion.
Pointing out the hypocrisy in DC's statement she wrote, " (Cormier) why you hatin playa? You got an immediate trilogy with Stipe Miocic after he finished you in the rematch. " Pena continued, "You have more title fights in the history of the UFC. Dang, let me live"
Pena has repeatedly called out Nunes over the past week hoping to headline the Brazil card, UFC 283 for her rubber match against the two-divisional woman's champion.
Related: "Your Ovaries are tiny " – Julianna Peña's demand for a rematch against Amanda Nunes ends with her being seriously mocked by fans
Is Daniel Cormier right about Julianna Pena's claim to a title shot?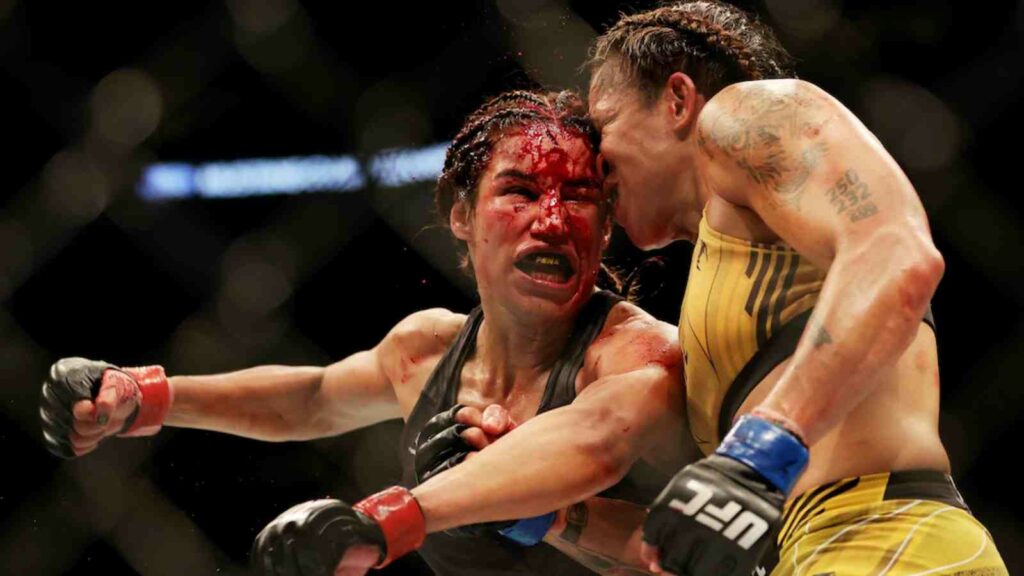 While on the surface, Pena's claim about DC receiving the most number of title shots may sound reasonable, the work he put in to be eligible for such a privilege. Apart from already being the lightweight champion, having defended it in the absence of Jon Jones, DC was also a former winner of the Strikeforce heavyweight GP.
Even before he two consecutive fights against Miocic, Cormier had an impeccable 4-0-1 record in his last 5. Compare this to Pena's record and you see the stark contrast immediately. Unlike Cormier, hot on a winning streak, Pena stumbled her way to a title shot.
Also Read: "Peak Discipline" Henry Cejudo credits shift to Southpaw as the incredible game changer for Amanda Nunes against Julianna Pena at UFC 277
Being 3-2 in her last 5 before her fight with Nunes, Pena had already lost to established talents like GDR and Valentina Shevchenko.
Moreover, unlike Pena, DC actually was winning his title defense against Miocic until the knockout. Pena on the other hand didn't have a semblance of control over where the fight goes in her rematch against Nunes.
Also Read:"It's a shoot, right?" – Daniel Cormier reveals the part that STRESSED him out the most at WWE: Extreme Rules