Lewis Hamilton and Mercedes' current situation isn't particularly great. Once again, it looks as if the package isn't enough to compete for the championship. Of course, we are only two races in, but the Silver Arrows are changing their car's concept. This will take some time, which means the Briton winning the championship in 2023 is a very distant possibility. And even after the concept change takes place, there's no guarantee that they'll be immediately competitive with Red Bull.
There's another concern: Though he has reaffirmed his commitment to Mercedes, it still remains a possibility that Hamilton will move away. Especially considering that his current contract expires at the end of the year. Both parties seem 'relaxed' about the extension, but in any case, right now, there's still a sliver of a chance that the Briton chooses to move away. Even if that's after an extension. He still hopes to win an eighth world title of course – that looks unlikely right now with Mercedes.
Toto Wolff did say earlier he would have "no grouch" with Hamilton if he choose to move away after a "year or two". The teams he could move to? It's being touted: Red Bull, Aston Martin, and Ferrari. The last of these were beaten by Mercedes in Jeddah, but that was helped along due to a timely safety car for the Silver Arrows. The Ferrari move is considered the likeliest of the three options. The other two are touted as unlikely, and now, Christian Horner seems to have ruled out Hamilton moving to Red Bull.
When asked by Sky News whether Hamilton could move to Red Bull, Horner said: "What Lewis has achieved in F1 is second to none, but we're very happy with the drivers that we have. They're committed as a pair not only this season but the next season as well. So, I can't see where we would be able to accommodate Lewis." Max Verstappen's current contract runs until the end of 2028, while Sergio Perez's current contract runs until the end of 2024.
Read More: 'F1 needs it,' Lewis Hamilton implored to move to Ferrari as Mercedes disappointment continues
Christian Horner and Red Bull 'not writing off' Lewis Hamilton yet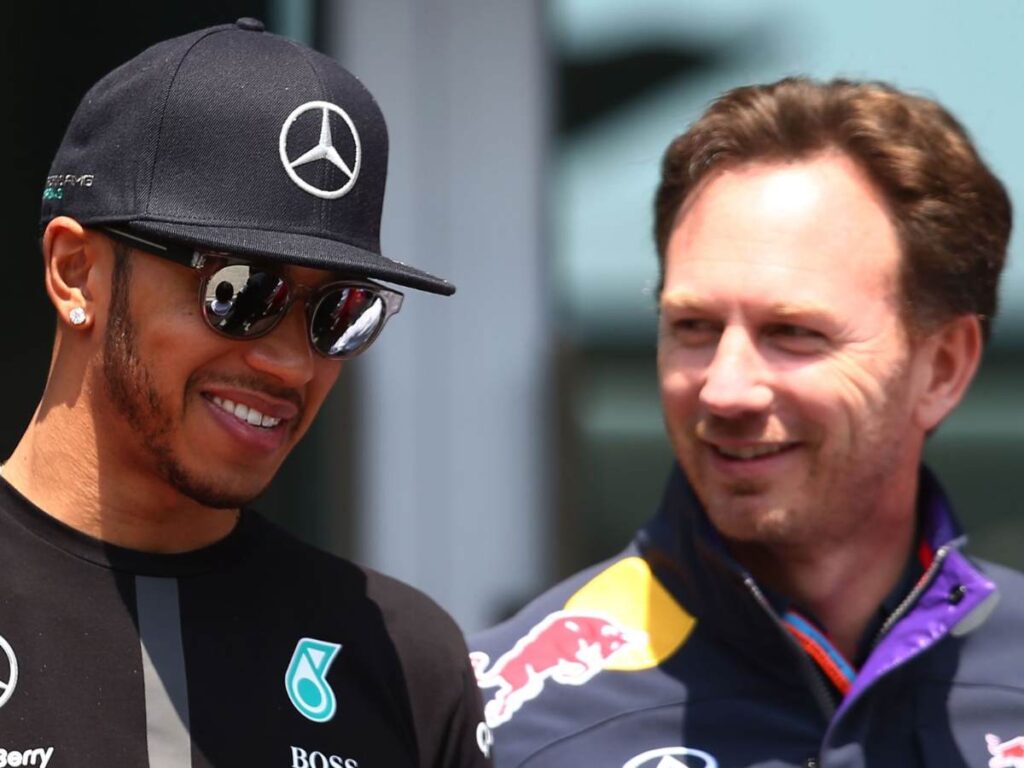 Right now, we're just two races in, so there's still some chance of good things happening for Lewis Hamilton and Mercedes. And the rest of the grid as well. Sooner or later, the effects of the cost cap penalty will hit Red Bull, and then the others have a chance to make bigger inroads. So, Christian Horner and Red Bull aren't writing Mercedes (and other rivals), or Hamilton off yet.
The Red Bull team principal said: "I'm sure they're going to sort their issues out – we're certainly not writing him off yet. We're hearing about big Mercedes upgrades, I'm sure Ferrari aren't happy with their current position as well. So, we're fully expecting things to converge quickly." The field converging is certainly the goal of the current regulations – neutrals will hope it happens quickly. As will the FIA and Formula 1.
So while Hamilton may not move to Red Bull, it's still a possibility that he can soon be competitive again with Mercedes. Last season, he didn't win a single race – he would hope to change that this year. Then, of course, there's the question of the elusive eighth world title.
In case you missed it: