The verbal battle between golf analyst Brandel Chamblee and veteran golfer Phil Mickelson reached new heights on Wednesday as the former continued his onslaught on the LIV Golf league. Chamblee has grabbed a lot of attention recently following his outrage on the Saudi-backed tour. However recently he dropped a surprising "murderous dictator" take on it.
The analyst has time and again berated the breakaway tour. He has claimed that the LIV is responsible for tarnishing the legacy of golf. Chamblee further mentioned that playing for the league is like shaking hands with a "murderous dictator", highlighting the political ties of Saudi Arabia. Fellow Golf Channel analyst, Eamon Lynch has now joined Chamblee in attacking Mickelson.
While referring to the recent Twitter spat between the duo, Lynch claimed that Mickelson has become a "shameless pawn" for LIV and has lost all his sense of reality. "Mickelson is valuable foot soldier for the Saudis, who appreciate moral ciphers eager to abase themselves for a check," Lynch said. "For him, character is now something on a Twitter keyboard," Lynch said while slamming Mickelson's character.
Related: Brandel Chamblee drops "murderous dictator" take on LIV Golf's partnership with Saudi Arabia
Phil Mickelson urges Brandon Chamblee and Eamon Lynch to get professional help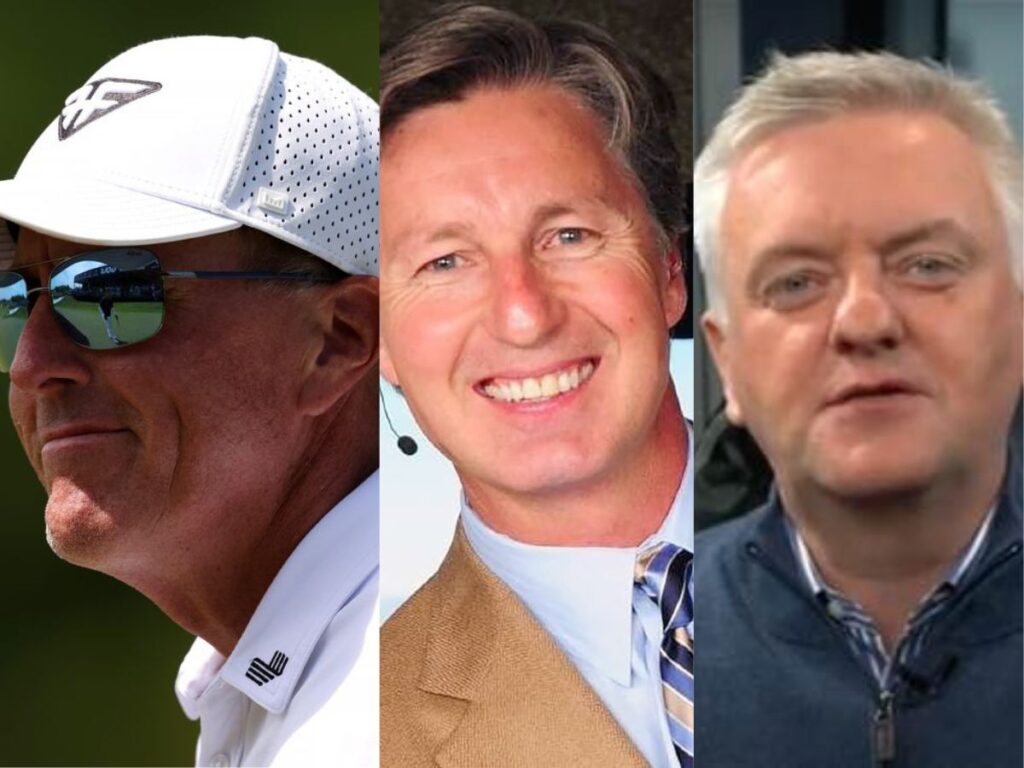 In recent times LIV Golf has been under a lot of scrutiny. The league has been continuously bashed for trying to bring changes in the golf format. Veteran golfer Phil Mickelson though has kept on defending the league and has been vocal on social media for a long time. He was quick to dismiss the take of Brandon Chamblee and urged him to have a one-on-one conversation on a different platform.
After this attack by Eamon Lynch, Mickelson was ready to answer him as well. He said that he already knew that Lynch would sooner or later come to the defense of Chamblee. "I was right (again). Eamon comes to Brandel's defense" He stated that both Lynch and Chamblee have some kind of obsession with him and the LIV league and asked them to seek professional help.
Before this strike by Lynch, Chamblee declared that Mickelson refused to have a debate with him at a neutral location. The golfer immediately fired back at him and maintained his stance. He claimed that he is not shy to go face-to-face with him and proposed a date and host in the form of Piers Morgan on June 3. The golf analyst is yet to respond to this proposal. Whether it will be finalized by Morgan also remains to be seen.
In case you missed it:
Former US President Donald Trump suffers massive setback as organizers blacklist his Turnberry golf course in Scotland
WATCH: Billy Horschel talks about challenging season in an emotional post-round interview at Memorial Tournament