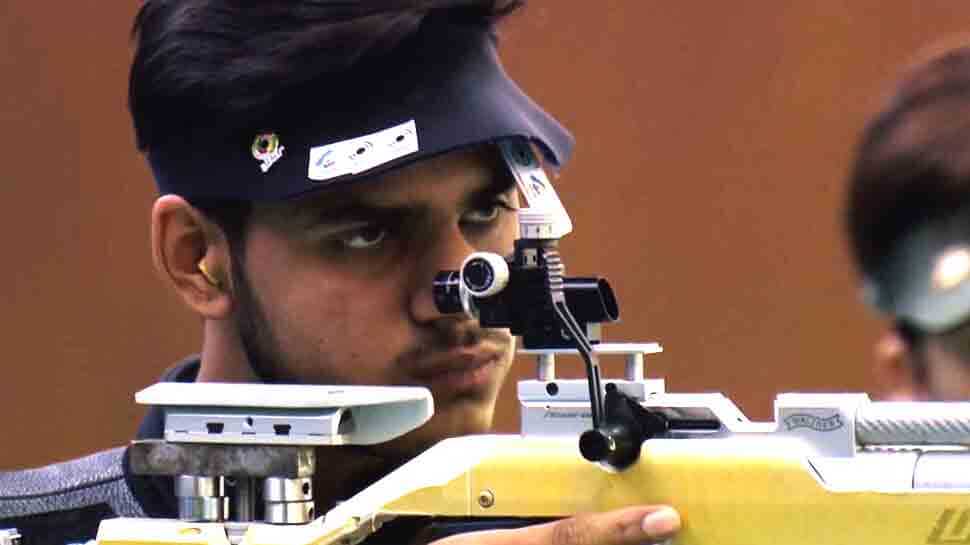 If T3 belonged to new names, T4 saw the re-emergence of familiar ones. All the four winners of the day were Olympic quota winners. Today's results put them in pole position to make it to India's squad for the Tokyo Games.
Divyansh Singh Panwar in Men's 10m Air Rifle was the showstopper today after bettering the finals World Record.
Women
50m Rifle 3 Positions
Veteran Tejaswini Sawant's dreams of making a debut Olympic appearance got a fillip as she both won the finals and topped the qualifications of T4. With this, she has won 2 out of the 4 trials and a 2nd place in another.
Maharashtra-based Tejaswini after a strong standing round ended up scoring 456.7 in the finals, well ahead of 2nd-placed Lajja Gauswami's 455. Shreya Saksena was 3rd. Shreya was well in the lead after the kneeling and prone rounds but a poor standing series saw her drop down to 3rd.
Tejaswini also finished 1st in qualifying with 1169. Her Olympic competitor Anjum Moudgil on the other hand continued with indifferent form. Anjum was 5th in qualifications with 1165 and had a DNS in the finals.
Trial 1 and 2 results can be seen here and here.
25m Pistol
MP's Chinki Yadav picked up from where she left off yesterday. In a stunning display, she shot an excellent finals score of 37 for the 2nd day in a row. Tejaswani was 2nd with 33 and Abhidnya Ashok Patil was 3rd with 29.
Manu Bhaker, despite placing 1st in qualifying with 587, was eliminated 5th. Rahi Sarnobat had a rare off day as she failed to qualify, finishing 10th with a sub-par 570. Chinki on the other hand also had a strong qualifying score of 584 which placed her 2nd.
Chinki has now won 2 trials with Rahi winning T1 and T2. Manu, despite topping all 4 qualifications has only managed 2 3rd-place finishes.
These facts now pose an interesting selection dilemma.
Men
10m Air Rifle
A sizzling performance by Divyansh Singh Panwar was the highlight of the day. The teen-aged Olympic quota winner bettered the existing finals World Record en route to winning T4. He scored 253.1 while 2nd-placed Aishwary Pratap Singh Tomar also shot 252.6, just 0.2 points behind the WR of 252.8 set by Chinese Yu Haonan. Another youngster Yash Vardhan was 3rd.
Interestingly, Hriday Hazarika had also broken this WR in T1, while Divyansh had won T2.
Deepak Kumar though had a disappointing day. He finished 17th in qualifications with a score of 625.5.
Paarth Makhija was 1st in qualifications with 630.3. Yash Vardhan was 2nd with 629.8, Divyansh 3rd with 629.7 and Aishwary 5th with 628.7.
Divyansh after winning 2 trials is almost a certainty for Tokyo 2020. Deepak though could only qualify for 1 out of 4 finals, where he finished 8th. This might open the doors for Aishwary, who has won the quota in Men's 50m Rifle 3P and has 2 2nd-place finishes in the 10m AR trials.
10m Air Pistol
Saurabh Chaudhary ensured that normal service is restored after winning T4. Saurabh (243.1), who had a record-breaking run in T1, finished just ahead of T2 winner Sarabjot Singh (242.8). Ravinder Singh was 3rd.
In yet another high-scoring qualification round in this event where 7 out of 8 shooters scored 580+, Omprakash Mitharval placed 1st with 588 but finished 7th in the finals. Ravinder was 2nd with 586 and Saurabh was 3rd with 582-21x.
Abhishek Verma, like Deepak in AR, did not qualify for the finals and finished 12th with 577-24x. Though well ahead of other Indians in the Olympic race, he will have to improve his form to be competitive internationally this season.
Saurabh, with 2 trial wins, a 3rd place finish and 580+ scores in all 4 competitions, is a bonafide Olympic medal contender.