The debate around the controversy revolving around the participation of transgender athletes continues to produce new stories. On Sunday, ESPN broadcaster Sam Ponder found herself under heavy backlash for showing her support to Riley Gaines. She was locked into a heated debate with USA Today's Nancy Armour regarding the "fairness" in women's sports. Gaines would later come to the aid of Ponder and called out Armour.
Ponder had earlier voiced her support towards Gaines and her movement. Gaines, the former NCAA swimmer has established herself as a towering figure in the fight for a ban on transgender athletes. She has time and again slammed the government and trans athletes, who despite being born "biologically" as a male, have competed in female-only events.
Gaines was in the spotlight recently for attacking two trans runners, Athena Ryan and Lorelei Barrett for not participating in the preliminary race this weekend. She called the duo "no-show" and slammed them for finally recognizing their mistake. Ponder spoke about this matter and soon found herself under heavy criticism.
She claimed that she has not spoken anything about this matter publicly. In spite of this, Ponder has received many messages from people thanking her for the efforts she has undertaken. "It is not hateful to demand fairness in sports of girls," she mentioned. However, Armour was having none of it and termed it as "plain old bigotry."
Related: "These Democrats can't even look me in the eye," Riley Gaines confronts Rep. Katie Porter over 'likes and clicks' comment
Riley Gaines slams Nancy Armour for not standing up to ensure women safety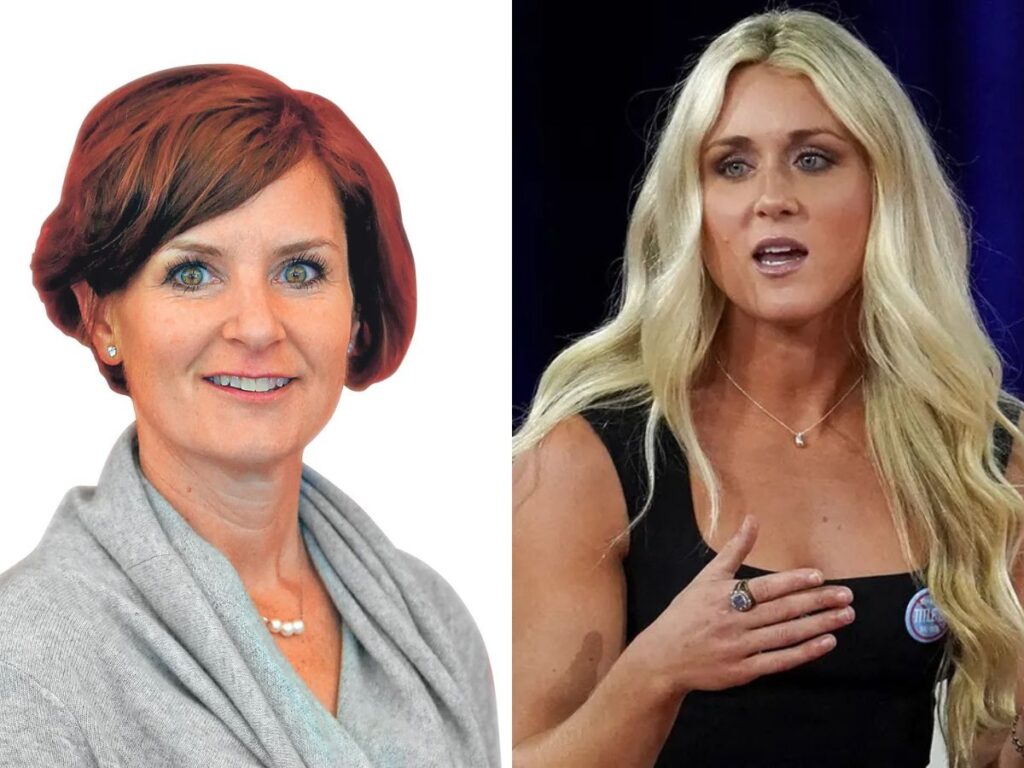 Nancy Armour was unpleased with the answer of Sam Ponder and showed her dissatisfaction. She was not pleased with Ponder because of the issue she took to speak out. Armour called out people not to be "fooled" by those who use "fairness" to show their injustice and prejudice towards transgender athletes.
Swimmer Riley Gaines then decided to step in. She has been one of the talking points ever since the ban on trans athletes was announced by the Athletics body. Taking to her Twitter, she slammed Nancy Armour for her comments. The former NCAA athlete also thanked Ponder for her support of this movement.
A month ago, in an online poll, majority of adults in America showed their belief in gender determination. They claimed that gender is something that is established at the time of birth. Many in the poll suggested that they are against "biological" men from taking part in women's sporting events. Armour has not made any statement regarding this development. It remains to be seen what her answer will be now.
In case you missed it:
"They're seeing this and they're fed up," Riley Gaines thanks liberals for supporting her stance to protect women's rights
Riley Gaines BLASTS Brittney Griner for supporting trans athletes' participation in women's sport calling it 'demeaning stance'