The UFC has announced that along with Venum, Dwayne Johnson better known as The Rock will also step in as one of it's kit partners with his Project Rock brand becoming the official footwear of the UFC.
The footwear company is part of the larger brand Under Armour, an entity the Rock has been an ambassador for since it broke out into the market. This is not the first time Johnson has been associated with MMA as his most notable appearance on an MMA stage came when he was named to be the Official Presenter for UFC 244, or more accurately "The BMF Title"
Apart from that, Johnson has also been teasing producing a biopic based on MMA Pioneer, Mark Kerr, however, there have been no serious developments towards that. The official announcement states the product will help UFC athletes build on their two pillars namely, "work ethic and legacy"
In the official announcement, we can see many big names, young contenders, and champions endorsing the product. Notable ones include the heavyweight champion, Francis Ngannou, The featherweight Champ, Alexander Volkanovski, and Bantamweight Champ, Aljamain Sterling. Jorge Masvidal, who has also been a longtime friend of fellow Miami Native Johnson was also seen endorsing the footwear.
Related: "Exploited for the Company" Francis Ngannou accuses the UFC of Stealing Sponsorship Money from fighters as he calls for urgent reform
UFC Fighters will have to provide Dwayne Johnson's media house interviews under the new Project Rock partnership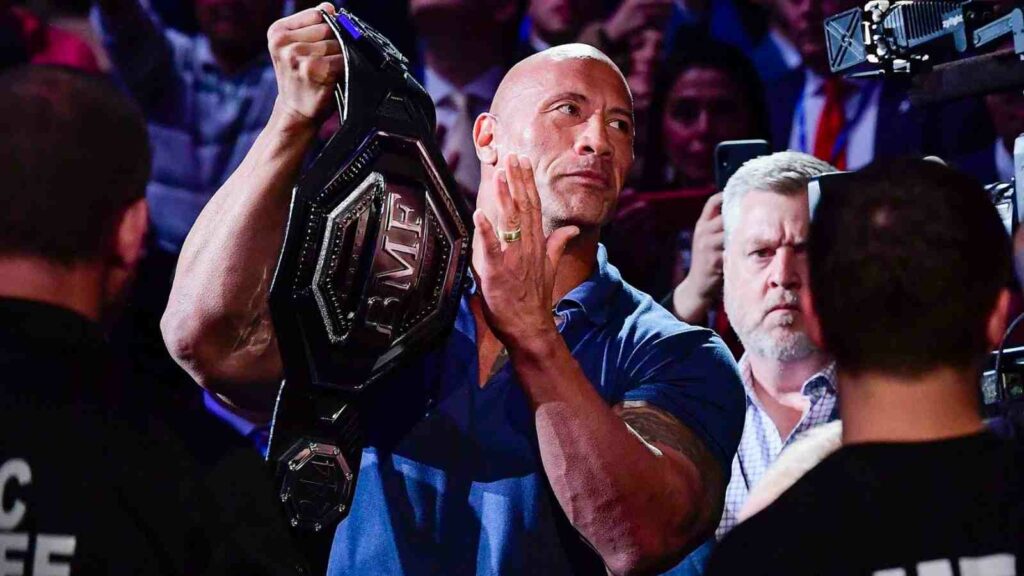 While all the attention has gone towards the UFC permanently hitching its wagon to a global superstar like The Rock, a few have taken the time to point out how the deal will mount on with the exploitation of fighters.
The previous kit sponsorships that the UFC had signed on to was notable in taking away a significant part of a fighter's earnings in the form of kit sponsorships while leaving them with measley contracted sums over fight week. Though things slightly improved under the new deal with Venum with the fighters receiving a better share, it is in no way close to what a fighter was able to make with sponsors on their shorts.
Also Read: How The Rock convinced Dana White to do a deal with Molly McCann for Howler Head
According to John Nash, a columnist for sites like Cageside Seats, Bloody Elbow, and SB Nation, the fighters under the new Project Rock deal will be entitled to none of the royalties that come along with the deal. Almost like rubbing salt over the wound, they will then be expected to provide interviews to Seven Bucks, Johnson's production/media company.
Coming from Johnson, who was a third-generation wrestler and by extension a third-generation independent contractor himself, the move to give fighters the lowest end of the deal is saddening but not in the least surprising
Also Read: Dana White gifts a whopping $250K to NELK YouTuber on his birthday