According to the latest reports, UFC star Amanda Nunes might be willing to step foot in pro wrestling. This may be a problem for former WWE Champion, Ronda Rousey, as she shares a long history with the UFC fighter. The Rowdy One had a successful UFC career before she joined the WWE in 2018. She won the UFC Championship and was inducted into the UFC Hall of Fame in July 2018.
This will not be the first instance of MMA fighters showing interest in joining the world of professional wrestling. A few of them have also made sporadic appearances. Fighters like Cain Velasquez and Daniel Cormier were seen in WWE. On the other hand, Conor McGregor, Colby Covington, and others have shown interest in WWE in many instances.
While talking to the New York Post, UFC Bantamweight Champion Amanda Nunes talked about the possibility of her joining WWE. She said, "It depends on the contract, you know? If the contract is amazing, why not?". Nunes also said that she is having an amazing time in the UFC, as she has achieved more than she ever thought she could.
The 35-year-old is currently scheduled to face Irene Aldana in the headliner match of UFC 289. The match was originally meant to be Amanda Nunes vs. Julianna Pena, but she was pulled due to broken ribs.
Nunes won't be the first woman to jump from MMA to pro wrestling. Apart from Ronda Rousey, Shayna Baszler and Marina Shafir have also made the jump and are doing well in the sport. Fans will be excited to see Nunes make her debut in WWE. This will open the possibility of unraveling her old rivalry with Ronda Rousey.
Related: Joe Rogan brutally anatomized Justin Bieber for offering his hypocritical take on Ronda Rousey following her UFC loss
The history between Ronda Rousey and Amanda Nunes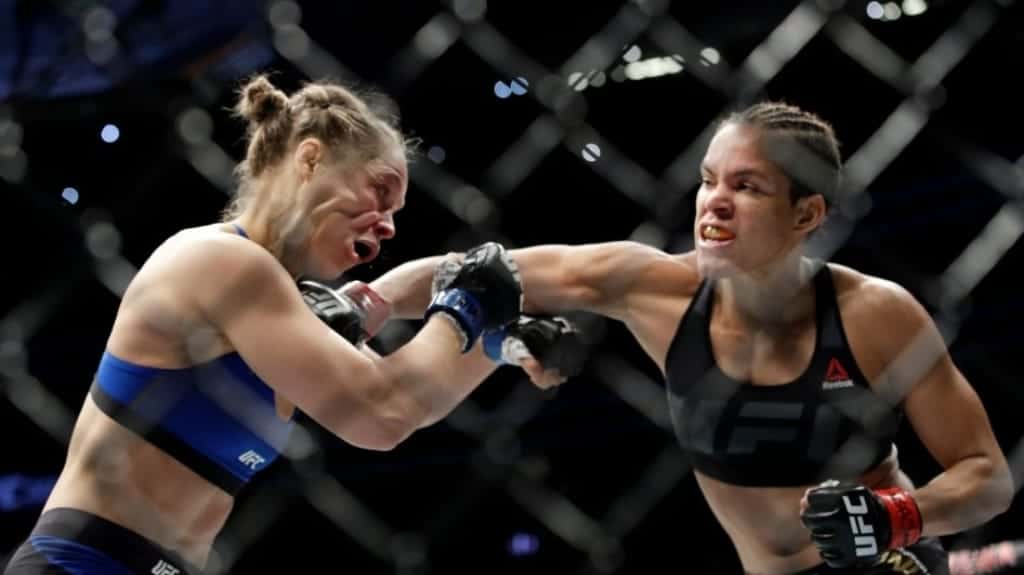 Ronda Rousey and Amanda Nunes are no strangers to each other. Rousey was the champion when Nunes was rising up the ranks in the UFC. The 37-year-old was also on an undefeated streak until losing to Holly Holm in 2015. Rousey went on a hiatus from the company for almost a year after her first loss.
During this time, Amanda Nunes kept winning the fights. On July 9th, 2016, she won the UFC Bantamweight Women's Championship. She defeated Miesha Tate to win the title for the first time. Nunes defeated the likes of Shayna Baszler, Sarah McMann, and others to become the number one contender for the championship.
In her very first defense, Nunes met the returning Ronda Rousey. She was coming back to the UFC after a year and after her first loss to Holly Holm. However, the result would also be the same this time, as Nunes defeated the Rowdy One with a TKO in under a minute. This was Ronda Rousey's last match in the UFC, as she unofficially retired from the sport and made her WWE debut in 2018.
In case you missed it: